Teradata pumps data warehouses with six-core Xeons
Flashy BI box cures performance anxiety
Extreme data
The Extreme Data Appliance lineup, which is aimed at deep-dive analytics and analytical archiving jobs, is updated today with the EDA 1650, which sports the six-core Xeon X5670s in the server nodes and now 2 TB of drives, boosting the capacity of the appliance to 187 PB. (The EDA 1650 only supports SLES 10 and runs the BYNET software stack atop an redundant Ethernet backbone, akin to InfiniBand over Ethernet or Fibre Channel over Ethernet.
The Data Warehouse Appliance 2650 is also out today, again with the Intel six-shooters (both sockets and 96 GB of memory) and sporting 2.5-inc drives in 300 GB or 600 GB capacities or 2.5-inch drives with 2 TB capacities, yielding 16.4 TB of user space for 300 GB disks, 32.2 TB using 600 GB disks, and 54.9 TB using 2 TB drives. The DWA 2650 can cram nine server nodes into a single cabinet, plus its disks, and using the new data compression algorithms in the Teradata 13.10 database and the extra CPU power, customers are seeing up to 3.3X the performance improvement, rack to rack, with the prior generations of machines.
This machine runs SLES 10 underneath the Teradata 13.10 database, and in fact, any Teradata 12.0 or higher release will run on the box of you don't want to upgrade your software just yet. Like the EDA 1650, the DWA 2650 runs the BYNET software stack atop Ethernet switches. The DWA 2650 is aimed at being a departmental warehouse that scales to six racks or 343 TB (not PB) of capacity.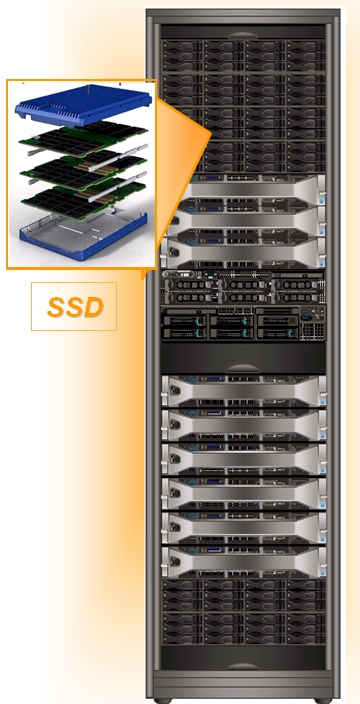 The flashy EPA 4600 appliance from Teradata
Which leaves the brand new box that is based on flash storage instead of disk storage, the Extreme Performance Appliance 4600, which Teradata says has "blazing speed for hyper-analytics." The company says that this is the first data warehouse appliance to rely solely on flash-based storage, and that the EPA 4600 can deliver up to a factor of 18X times improvement in decision support query rates compared to the Active EDW data warehouses using spinning disks, with average query times almost four times faster.
The Teradata 13.10 database release has been tweaked to know how to make best use of solid state disks and makes full use of the Teradata Active System Management workload and performance management tools for the appliance family.
The EPA 4600 has the redundant 10 Gigabit Ethernet backbone linking the server nodes and running the BYNET fault tolerant software stack. The server modes used in this appliance are based on the quad-core Xeon 5500 series processors, not the six-shooter 5600 series, for reasons that Teradata did not explain. The server nodes can have up to 96 GB of memory, four 450 GB disks (if you want to go there), and link out to SSD disk drives over 6 Gb/sec SAS links. Each server has four SAS links and can attach to a solid state disk tray that has eight 300 GB SSDs. Teradata has chosen Pliant Technology's Lightning flash drives (which come in 150 GB and 300 GB sizes and deliver 160,000 I/Os per second) and LSI's SAS controllers to attached them to the server nodes.
After formatting the 300 GB SSDs down considerably to extend their productive life, Teradata puts 24 drives in two trays, and carves them up into three segments to feed three different nodes. The user capacity per node is only 1 TB each with 40 per cent data compression activated, and 713 GB with no compression. That is giving back an awful lot of the capacity of the SSD drives, but customers want to get a lot of years out of their data warehouses.
A fully scaled EPA 4600 can give companies 17 TB of data space to chew on, but it can do it very fast thanks to the IOPs of the SSDs. The machine scales up to 24 nodes. The EPA 4600 only supports SLES 10, by the way.
The interesting thing that Teradata did not announce this morning is that it was putting flash drives into all of its various appliances to boost performance across the line. It is clear from the short-stroking on capacity that Teradata is using on SSDs (to borrow a phrase from the spinning disk industry) that the company does not yet fully trust the reliability of SSDs for long-term and heavy use, and rightly so since this technology has not been proven in the field under the kinds of conditions that data warehouses operate in.
It would not be surprising to see flash drives eventually embedded in all of Teradata's appliances. Especially if all of Teradata's rivals do it. Oracle is flash happy at the moment in its Exadata appliances, but is using flash to front-end disks and provide burst data rates to the server nodes that do the SQL crunching in the X2-8 warehouse. IBM is sprinkling SSDs from Fusion-io into its Smart Analytics System 5600 setups, also x64-based rack servers and the most similar boxes to what Teradata is peddling in the Blue appliance fleet.
The updated appliances will start shipping today. Teradata does not provide pricing on its data warehousing and analytics appliances, but Randy Lea, vice president of product marketing at Teradata, said that all of the appliances will have better bang for the buck and the company sliced its prices a bit on the base hardware, so this is not just a more oomph for the same dollars play. The biggest price cuts were on the DWA 2650 machines, according to Lea. If you want to see a rationalization of Teradata's TCO pricing methodology without any actual prices, check this out. ®
Sponsored: Minds Mastering Machines - Call for papers now open