Vanquish
Programmed to kill
Combat evolved?
Vanquish constantly poses such questions through richly diverse gameplay. Set pieces other developers would repeat over and over, Platinum Games uses just once. Fighting aboard a giant train-cum-rollercoaster as it rolls and loops through the space station; dashing along a listing bridge as toppling skyscrapers rain huge clumps of reinforced concrete everywhere; boosting away from the deadly strike of a shape-shifting robot as it rears up like a Tarantula; or trying to pick off a swarm of enemies as they brush through tall grass.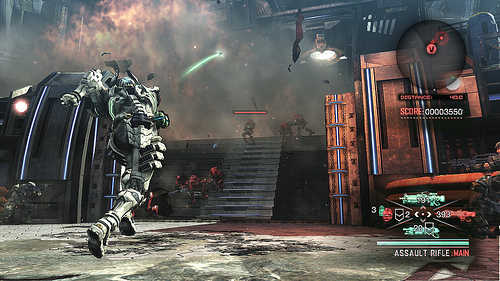 Dive into the melee or attack from a distance - the choice is yours
Vanquish throws so much at you that you're almost surprised not to see the proverbial kitchen sink fly past. And it hurls everything at a rock-solid 60fps, shaming so many other developers with its ludicrously high enemy count and vast draw distances.
It's a shame, then, that the visuals start off so unimpressively. A dreary grey palette dominates the first couple of hours, when the game most needs to entice the player through its exacting learning curve. But the visuals improve throughout, as neon lights and rich vegetation begin to break the monotony of the sterile futuristic world.
Vanquish's narrative is equally dreary, and best ignored. But it can be excused as pastiche of an already hackneyed genre. And it contains some amusing and memorable dialogue, especially the gruff, profane bon mots of the Marine's platoon commander, Sgt. Robert Burns, who cuts a swathe through the Russian robots with such quips as, "These red bastards'll never know the beauty of a Kentucky Bourbon," and - my personal favourite - "Yo, Robofuck."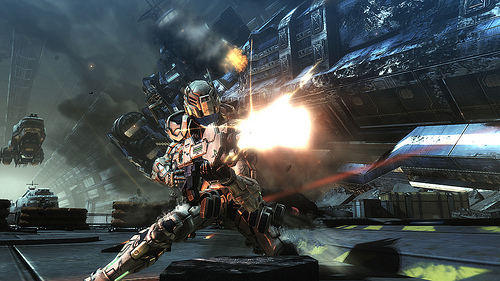 Judge Dredd cross bred with a Stormtrooper
Verdict
Like so many of Mikami-san's games, Vanquish is far too esoteric for the taste of casual gameplayers. Superficially a poor Japanese imitation of a Western shooter, only through perseverance and open-mindedness are Vanquish's true depths revealed. But once revealed, gamers are rewarded with unconventional, ground-breaking mechanics that prefabricated Western shooters will be plagiarising for years to come. ®
More Games Reviews

Fallout:
New Vegas
Medal of Honour
Fifa 11 vs
PES 2011
Castlevania:
Lord of Shadows
Sponsored: Minds Mastering Machines - Call for papers now open

Vanquish
A formidable, ground breaking title that will likely be misunderstood by all but the most open-minded of gamers. Available on Xbox 360 (tested) and PS3