Vanquish
Programmed to kill
Suit and cable ties
With an army of robots, Victor Zaitsev, an ultra-nationalist Russian megalomaniac, has hijacked a city-sized space station which the American's use to harness the power of the sun. Turning the microwave energy towards Earth, Victor obliterates San Francisco and holds the US to ransom, threatening New York as his next target.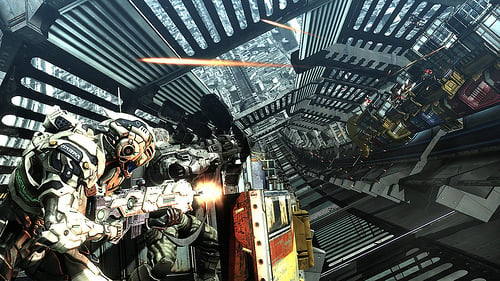 This hallway has many grate features
Your character, Sam Gideon, is a government agent sent alongside an elite team of Marines to recapture the station. Kitted out with futuristic weapons and an experimental battle suit known as the Augmented Reaction Suit – ARS - Sam is America's latest and most powerful weapon. The ARS can boost around the battlefield at phenomenal speeds and slow time to a crawl. But for all your seeming omnipotence, the mechanic at the heart of Vanquish's gameplay is vulnerability.
You see, the ARS overheats with overuse. Use of either ability drains an on-screen gauge, increasing exponentially when both are combined. And a powerful melee strike, which can destroy enemies instantaneously, also drains the gauge instantaneously. Once overheated, the ARS is rendered powerless during a ten-second cool-down period.
For a couple of hours, familiar cover points and run-and-gun mechanics fool you into considering Vanquish an underwhelming Gears of War clone. The suit's abilities feel extraneous, the boost mechanic feeling particularly cumbersome as you bump around tight battle spaces through a cacophony of lasers, rockets and gun turrets, often finding yourself in dangerously advanced positions.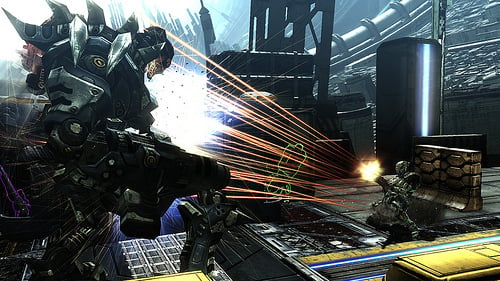 Multiple shot wounds
But all the time you're learning by osmosis. As you begin to master the ARS, you begin to understand Vanquish itself. One eye on the relentless action, the other remains firmly upon the gauge. Use cover to patiently pick off distant enemies, or slow-mo-boost-flank to take them by surprise? Take out the toughest enemy with a melee strike, and overheat the ARS, or hang back and chip away at them and your ammo?