US raygun jumbo fluffs another test missile-blast attempt
Blaster-biggun in Nork shot splash cockup
The United States' enormous jumbo-jet-mounted raygun, the Airborne Laser Testbed (ALTB), has suffered another embarrassing test failure. During an attempt to beam down a target missile off the Californian coast last week, a technical hitch saw the 747's blaster cannon fail to fire up.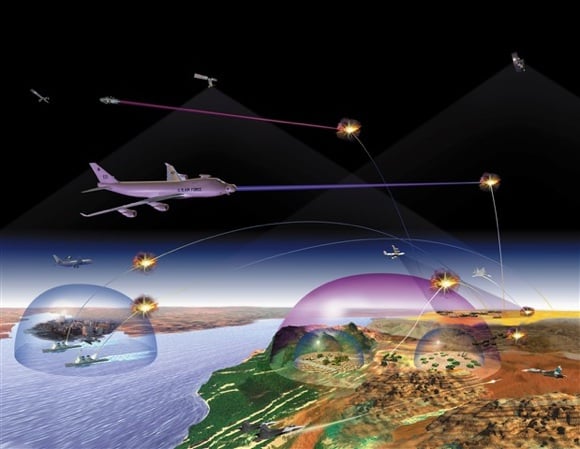 It was all going to be so cool ...
According to an MDA statement (pathetically headlined "Airborne Laser Test Bed Exercise Conducted"):
The objective of this mission was for the ALTB to destroy a solid-fuel, short-range ballistic missile while its rocket motors were still thrusting.

The Terrier Black Brant target missile was launched successfully. Preliminary indications are that the system acquired and tracked the plume (rocket exhaust) of the target, but never transitioned to active tracking. Therefore, the high energy lasing did not occur.

Program officials will conduct an investigation to determine the cause of the transition failure. The intermittent performance of a valve within the laser system is being examined.
Originally the ALTB, then known as the Airborne Laser (ABL), was expected to attack long-range intercontinental ballistic missiles (ICBMs) able to deliver nuclear weapons to the continental USA from far afield.
The idea was that a fleet of ABL laser-jumbos could patrol within raying distance of enemy missile fields in North Korea and burn down ICBM rocket stacks as they soared upward. This is a good time to blast an ICBM, as once it is out of the atmosphere the warhead(s) will separate from the upper stage. Identifying the actual warheads among a "threat cluster" (also including bits of upper stage and possible purpose built decoys) is difficult and striking at them is more so. Shooting them down as they re-enter at hypersonic speed is also very challenging.
Sponsored: Minds Mastering Machines - Call for papers now open