Tesco touts Samsung Android tablet
Galaxy Tab worth 1058 Clubcard points, don't you know
Tesco has become the latest supplier to price up Samsung's Galaxy Tab, due to go on sale on 1 November.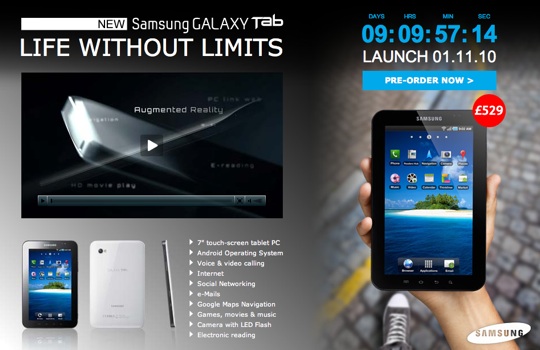 The grocer wants £529 for the 7in, Android 2.2-based tablet with 2.4GHz 802.11n Wi-Fi, 3G, Bluetooth and GPS, the same price Apple wants for the 9.7in iPad with those same connectivity and navigation features. Both devices come with 16GB of storage, though the Tab has a memory card slot for more.
Earlier this week, O2 said it would offer the Tab, which can already be ordered from Amazon.co.uk, Carphone Warehouse and a number of other retailers. Vodafone and Three will sell it too but, like O2, have yet to say what they'll charge. ®
COMMENTS
What about the small low-res screen
It might be smaller and lighter, but it has a much smaller and lower resolution screen. Yet it still costs as much as the iPad. I don't consider that to be good value for money.
By Apple Logic
More Expensive = More Good
So this tablet MUST be better than the iPad.
Should also be
Half the price
Sverix...
Getting a bit confrontational there, nobody has even mentioned the iPad.. it's almost as if you were paid to post that...
As Anonymous said, £529.. no way.
Oh dear, how to choose?
They're both out of my budget, but at least I know people who are using the iPad, and can tell me how it works in practice. And the bigger screen might matter a lot.