Seagate-Steve trash for Apple-Steve flash pash
In the cloud or the machine, there'll still be platters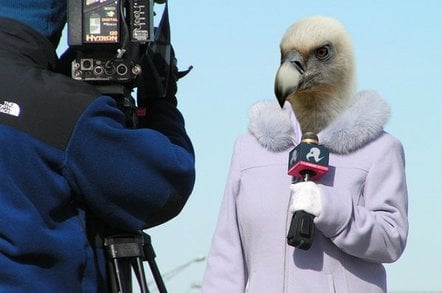 The MacBook Air is not a pointer to a diskless notebook future, according to Seagate chairman and CEO Stephen Luczo.
Luczo made this pronouncement while discussing Seagate's poor results with financial analysts. The headline first quarter results for Seagate's financial 2011 set the scene: revenue rose $34m to $2.7bn compared to the year-ago quarter while profit slumped $30m to $149m. Oops. There was weaker-than-expected demand in the quarter, which led to over-supply and consequent price falls. Seagate built too many drives and sold them too cheaply.
Western Digital also experienced a weakening in demand, and CEO John Coyne said he could see an iPad/tablet computer effect whereby their use of flash memory (SSD) rather than hard disk drives (HDD) would erode netbook/notebook HDD demand growth by 10 - 20 per cent over the next four quarters or so.
Since then, Apple has announced its widened and more affordable MacBook Air range of flash-based notebook computers. Analysts were keen to hear the thoughts of Seagate Steve on the Apple Steve's assertion that all notebooks are going to move this way.
Luczo said MacBook Airs were a tiny proportion of Apple's product shipments: "The percentage of their units that they sell with SSDs versus HDDs is a tiny fraction. I think it's under 3 per cent, certainly under 5 percent."
Then he slagged off the Air: "I have an Air book with an SSD unit that I've had for I guess a year and a half now," said the Seagate chief. "And [there are] things that are little bit frustrating … the cost and the lack of capacity. I spend a lot of time cleaning out files so I can make room for not a lot of content to be honest with you. [But] I think there are some users that can operate [in a] net environment and be happy."
He said there is an SSD response-time issue: "I can tell you that my [Air] SSD drive takes about 25, 30 seconds to boot now versus the 12 seconds when I bought it. And that's just an issue more related to OS than it is specifically to the technology but … with the hybrid there is things that you can do it alleviate that so your boot times are actually as compelling one and two, three and four years down the road."
Luczo is referring to Seagate's Momentus XT, a notebook hard drive with a small flash cache used to hold the O/S and main application files so the host boots and loads applications faster than from a hard drive alone but at fraction of an SSD-based system cost.
He said: "Seagate introduced [its] hybrid drive last quarter. You get basically the features and function of SSD at more like disc drive cost and capacity."
Sponsored: Minds Mastering Machines - Call for papers now open