TVonics DTR-HD500 Freeview HD DVR
Designer digital video recording
Well-designed UI
Connected and powered up, the HD500 presents a clear, straightforward user interface that's easy to navigate, though the remote's overly stiff directional keys make the process slower than it could be.

A nicely designed remote despite the overly stiff direction keys
The HD500 presents the standard Freeview programme guide - no ads, either - and allows you to customise the list, but only to prune deadwood channels like home shopping and smut.
The HD500 maintains a series of what it calls 'Timers' - essentially entries on its recording schedule. As a modern DVR should, it spots shows that aren't one-offs and allows you to record entire series. Even movies that break for the news are sensed as such, so you need only record the first half to get the second.
You can set a given Timer to start early, finish late or both, but there's no universal setting that automatically applies such padding to all recordings. A problem, I thought at first, since it means that you may miss the beginning or end of shows that don't start on time. But the HD500 taped perfectly all the many recordings I made over a two-week period, so it's clearly savvy enough to adapt its Timers to the actual broadcast time rather than the times provided by the EPG.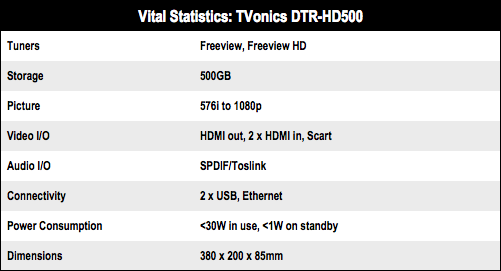 Sponsored: Minds Mastering Machines - Call for papers now open