Hands on with the new Apple MacBook Air
Netbook plus?
New design, same old performance?
When new, and with the wireless off and the backlight turned down, my first-gen Air gave me six-and-a-half hours or more usage before the battery died.
So no leap forward there, and no leap forward with boot times either, I'm afraid. The Air starts up from sleep quickly, but then no faster than any other MacBook does, especially when you disable Mac OS X's Safe Sleep feature, which writes the contents of memory to the hard drive. This is enabled by default on all mobile Macs, so there's a moment when the Air is showing the desktop but there's not yet a cursor to move.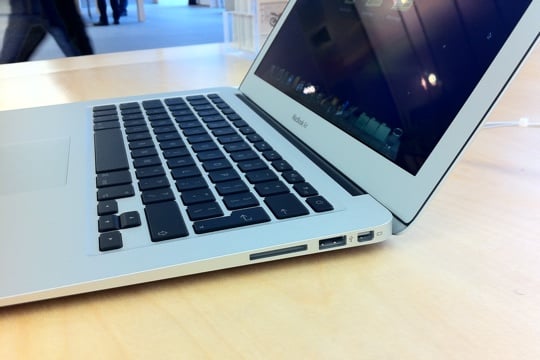 The 13.3in model has an SD card slot. The 11.6in Air doesn't
Starting the 11.6in Air afresh took 29s from the press of the power key - now part of the function-key row - and the appearance of a usable desktop. That's compares well with Windows 7, say, but it's not much faster than a fresh MacBook Pro.
Apps like iTunes didn't appear to load sufficiently faster than they do on other Macs, but it'll take head-to-head timings to show how much quicker the SSD is. Don't forget too that 64GB SSDs tend to be the slowest of the lot, the read and certainly the write speed rising as you pack in more capacity.
Verdict
So am I tempted to toss £849 on an 11.6in Air? As a lover of small, slim, lightweight computers, I sure am. The problem is that, since performance is inevitably limited by form-factor in this and all similar sized machines, it's not going to be radically better than my year-old Acer Aspire Timeline 1810TZ, which, incidentally, can deliver 50 per cent more battery life than the Air and has Gigabit Ethernet, a third USB port and a SD card slot.
But it's also heavier and considerably thicker. And it runs Windows 7. I could hackintosh it, but those who have report that not all the parts work under Mac OS X, in particular the Wi-Fi and sleep mode, two features I rely on.
Yes, there will always be a comparably sized machine that's cheaper and/or more featured than the 11.6in Air, but you'll be hard pushed to find one as good looking and a sheer bloody portable. And as anyone who, like me, has dropped an Air before, that aluminium casing can't half take some punishment. ®
Sponsored: Minds Mastering Machines - Call for papers now open