Hands on with the new Apple MacBook Air
Netbook plus?
Usability improvements
The 11.6in Air lacks the 13.3in model's SD card slot, but with that second USB port, plugging an adaptor module in still leaves you with a port spare. And it'll be a darn sight easier now that Apple no longer builds the Air's ports into a drop down panel.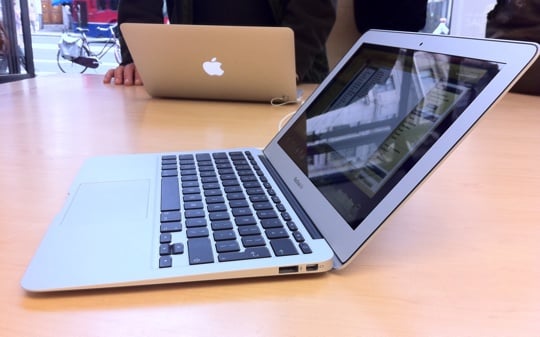 Way skinny, and very easy to carry around
These changes improve the Air's usability no end and remove almost all of the compromises made to get the original as thin as it was.
I liked the look of the previous Air, but at first I wasn't sure about the new one's styling. Fortunately, it's not as wedge-shaped as it looks in the official photos, thanks to the curvature at the edges of the lid and the base.
Closed, it's very convenient to carry - especially the 1kg 11.6in one - though you won't be opening it single-fingered as they do in the ads. In both models, the screen gets almost but not quite vertical before the base starts to tilt up.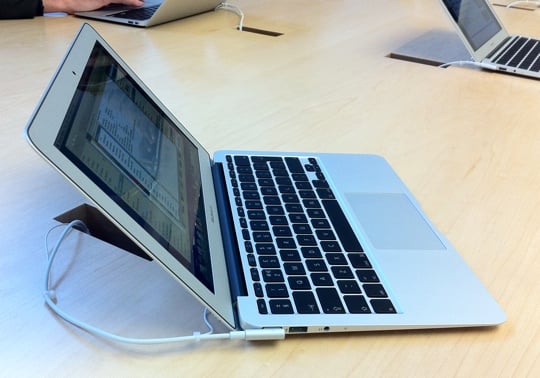 Extra USB portage, but still no Ethernet
As you'll have seen from the internal snaps, much of the Air's interior is battery, but the figures Apple quotes are not spectacular. The 11.6in is said to provide five hours' runtime on a charge, officially. I couldn't test that, but I can say that knocking back the backlight to a dark but still just viewable saw Mac OS X's menu bar battery readout report six hours and five minutes from a full battery. I couldn't turn off the Wi-Fi, but doing so should raise that figure a bit.
Sponsored: Minds Mastering Machines - Call for papers now open