Faster chippery, sort of
The Intel graphics was always the original Air's failing performance-wise, and so the Nvidia graphics, as they did with subsequent revisions of the first model, will go a long way to balancing the relatively slow CPU speed and the use of the old chip.
I should point out, though, that none of the other 11.6in notebooks on the market have a Core 2 Duo inside. Some have single-core Celerons, more modern ones have dual-core Pentium processors or AMD's dual-core Athlon II Neo.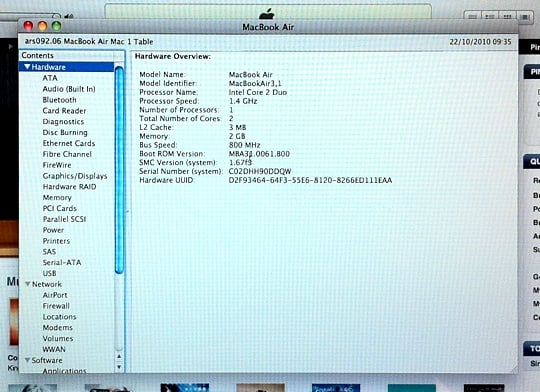 Not a top-of-the-line processor
But a detailed look at the specs will have to wait for benchmark testing results to compare them to. Watch this space for a full review. For now, I can say that the 11.6in Air had no trouble running 1080p video - not something you can say about even the newest of Atom-based netbooks with Intel graphics.
The 13.3in Air feels much the same as the previous Air when closed, and the 11.6in version is an inch or so smaller. Apple has included a full-size keyboard in both, and in the case of the smaller Air, that's the component that defines the laptop's size.
Like MacBook Pro keyboards, the Air's is solidly underpinned and good to type on, though both models lack a keyboard backlight, a feature no one really appreciates until they use it in low light.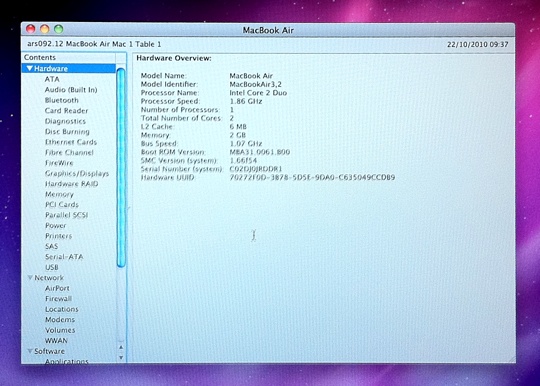 Slighty better specs in the 13.3in Air
Apple was right to add a second USB port to the new Air - having one was the original's key limitation - but there's no Ethernet, Apple not unreasonably supposing that the vast majority of users will connect over 2.4/5GHz 802.11n Wi-Fi. There's always a USB Ethernet adaptor if you need a wired connection, but that's extra, of course.
COMMENTS
Didn't get a review machine I see
I love the fact that the reviewer has clearly just wandered down to the Regent St apple store and had a play around with one of the desk models :)
Shows an enterprising spirit!
RE:Like a bad eeepc 1215pn surely?
Doesn't the Asus EEE 1215pn have the Atom processor. Comparing the Atom to a Core2Duo is like comparing a Skoda to a Ferrari.
Didn't Author tell you to stop reading?
"If you're the sort to throw a fit because you can by a 15in octo-core über machine for half the 850 quid Apple wants for the even most basic, smallest Air, stop reading now. Let me assure you, your prejudices will be reinforced."
...but no...you had to come in and comment anyway.
You should probably highlight the downsides of a Hackintosh before evangelising them too btw. You and I have built 'em and know the pitfalls, but Joe Public is probably nowhere near technical enough to build one himself.
Seriously overpriced
What, £1100 for an ultra-thin 11" notebook PC with just 64GB SSD and 2GB RAM?
What kind of idiot would pay for that?
No, I'm not talking about the Air, I'm talking about it's direct competitor, the Sony Vaio X. Which only has a 1.86Ghz Atom, as opposed to the Air's Core Duo.
Makes the £850 Air seem pretty good value, doesn't it.
Err...
Did you read the review at all???
I was going to post how great and balanced a review it was, hopefully quashing the usual slatings, but no.... still they trudge in.
I love the product, but have no requirement for one that i couldn't fix with my iPad or MBP, but i know of many folk who'd love one, my other half at uni for instance, to complement her iMac!