Fallout: New Vegas
Has the King left the building?
Spring a trap
Rolling into Good Springs on a revenge mission, those Ghouls did leave me for dead, I recall. I do my good deed for the day helping out the locals chase off some undesirables. In gratitude, the villagers helpfully spill the beans on the whereabouts of aforementioned assholes. Better trundle past those rabid Geckos along to Nipton where I try to avoid looking at those less lucky wanderers strung up on crucifixes.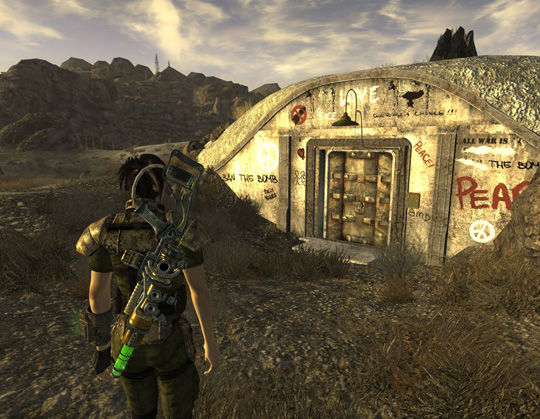 Going underground
I'm mad about graphics, and you now play in a colour scheme that's shades of yellow and orange as apposed to grey. That's better, but I still really wasn't stunned. The city of New Vegas stands out as vibrant and glitzy but only in comparison to the rest of the landscape. I know that scrub desert can be a bit limiting aesthetically but for this kind of money and from this kind of title, I demand stunning.
It's the same with the characters and animation. They were cutting edge when Fallout 3 came out in 2008, but the bar is constantly being raised, and Obsidian has fallen short. Let's just hope that by Fallout 4 they decide to make an effort. I did love the visual kitsch junk house of No Vacancies (NOVAC) though, especially the dino crumbling look-out tower.
Some of you will make the point that this game is all about hardcore mode - which is all about food, water and sleep. I admit I didn't play hardcore - I can imagine it being realistic but too long. It's a fine line between stimulating realism and a grind. I would like to know what it unlocks, though.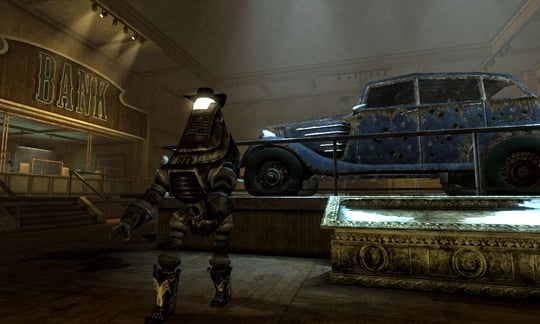 Only robots work in the bank
Verdict
Fallout New Vegas was lots of fun, but isn't really the major step up from Fallout 3 that I was expecting. I did like the fact that I couldn't predict where the game was leading me, and to all intents and purposes I was free to wander at will. Plenty of players have moaned that they liked various earlier installments of the game better than this one, for a variety of reasons, but I think their main disappointment was that this didn't seem like a standalone game. Has over-familiarity bred contempt?
I would also like to add that I am gutted that all the DLC has been snapped up by Microsoft, leaving this Sony fan hot and bothered. Ah well, must be time for some cactus juice... ®
More Games Reviews

Medal of Honour
Fifa 11 vs
PES 2011
Enslaved:
Odyssey to the West
Castlevania:
Lord of Shadows
Sponsored: Minds Mastering Machines - Call for papers now open

Fallout: New Vegas
The horsemen of the (coming) apocalypse limp into town. Available on PS3 (tested), Xbox 360 and PC