Fallout: New Vegas
Has the King left the building?
A man's best friend
Going for a more squad-like feel, Obsidian figure there's not enough fun to be had with one partner and have given you two: one humanoid and one non-humanoid - Rex the cyberdog = love - to keep you company. Just don't be worried if they have a tendency to disappear for hours at a time. The AI is still pretty limited - they can't jump fences and will spend ages going the long way round. I must say, I do miss Dogmeat, even if he did wander off and get himself killed all the time.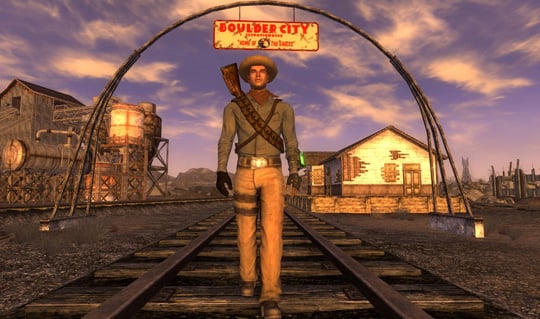 On track to leave on time
One of the training quests helps you get to grips with the pause-and-select VATS targeting system copied from Fallout 3. And, after a bit of lady-on-lady gun skills with Sunny Smiles, it's time for more wandering.
This game has sandbox written all over it. After the initial customisation section, you can wander all over the dusty unforgiving hills of the Nevada desert in a surprisingly enjoyable and non-linear way. This leaves you time to hook up with a side quest or shoot the shit with one of the more colorful characters you may come across while the sun goes down.
There do seem to be several paths to follow, depending on which faction you decide to buddy up with. Caesar's Legion or California Republic... choices, choices. I might just hang with Mr. House in the Lucky 38. If I can get past the Securitron Robots, that is.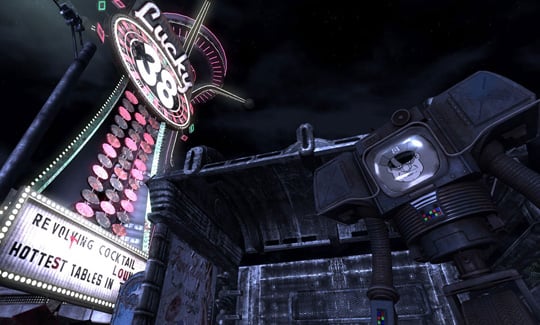 Feeling lucky? Well, do ya?
By this point, I am struck by the fact that this game is massive. You can spend at least 60 hours or more with a mixture of main quests, side quests, faction building and whatnot. I wandered around vast areas surrounding New Vegas and if I saw something on the horizon, I could take the time to wander over and check it out - or kick its arse. There are plenty of enemies to be on the watch for - running into Ghouls or Nightkin made me wish I could buddy up with Mad Max.
Sponsored: Minds Mastering Machines - Call for papers now open