MS to unveil fresh Flash challenge next week?
Silverlight MIA - for now
Microsoft may next week detail the next instalment in its Silverlight challenge to Adobe Systems' Flash.
It has finally published details of sessions for its Professional Developers' Conference (PDC), and of the 34 sessions two have place-holders instead of abstracts.
One of those sessions covers Silverlight, and comes with the message: "This will be a great Silverlight session, but we can't disclose any details until after PDC keynotes."
Delegates are encouraged to check back in after the keynote for additional details about the session.
That keynote will be delivered at the start of PDC on Thursday morning by the president of the business unit that's home to Silverlight - Bob Muglia, of server and tools. He'll be speaking during a two-hour session with Microsoft chief executive Steve Ballmer.
The second session missing an abstract is called "lessons learned from moving a major Microsoft application to the cloud", and says further details will be posted after the keynote.
None of this proves Silverlight 5 - the next version of Silverlight - will be detailed or code released, of course.
Circumstantially, though, the facts point to the possibility of news.
Microsoft could use PDC to make a Windows Phone 7 announcement, as there are sessions at PDC on Microsoft's latest mobile operating system. Windows Phone 7 has just launched but is based on Silverlight 3 and 4, and there's now discussion of Windows Phone 8. Details on Silverlight 5 or pre-release code is another option.
Microsoft has announced products during the keynotes of its past conferences, and used sessions to dive into the technical details for eager programmers.
The company has used its annual PDC as a platform to target developers with Silverlight before. Microsoft delivered the beta of Silverlight 4 at PDC 2009 in November last year, with final code released in April this year.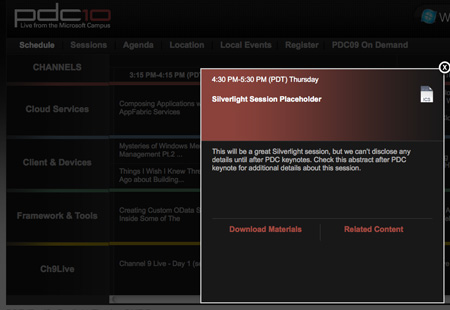 This is not a message, or is it - Silverlight 5 coming to PDC?
Further, Microsoft's event will take place during the same week as Adobe Systems' annual MAX conference in Los Angeles, California, where Adobe's expected to promote Flash among the same developer and partner crowd Microsoft is targeting with Silverlight.
Sponsored: Minds Mastering Machines - Call for papers now open