iDapt i4 multi-purpose charger
Does 'em all, apparently
Bung hole surfer
If a thick rubber cap protects the charging port of a device, like on the Alcatel OT-808 I tried, it can make the fitting awkward. The shape of a device and port location can also be a problem. To charge, it must be a snug fit, as there isn't much leeway. The tips only work one way round too, so its tough luck if the device is facing away from you when on charge.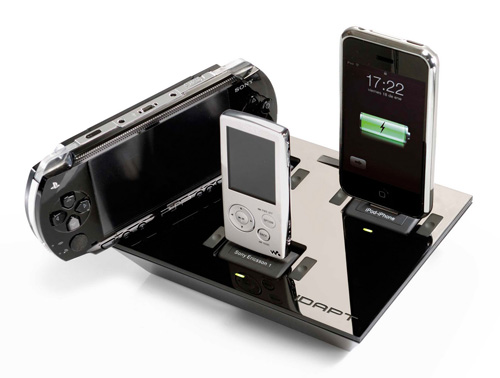 Clutter-free and easy to get used to having around
Rather conveniently, there's no straggling external PSU, as the power supply is housed within the body of the hub. Just plug in a standard 2-pin figure-of-eight mains cable and away you go, which makes it a handy all-round option for travelling. The review unit was the black and shiny model, which is a fingerprint magnet, of course. Other colours are available that don't show pinkie marks so readily, and iDapt has recently expanded the range of colours for the i4.
Verdict
Overall, I'm rather impressed with the iDapt i4. The USB port is a welcome addition over previous models and its convenience in removing the need to search for chargers and untangle cables shouldn't be underestimated. Indeed, the longer you use it, the more dependent you become on it. While it's not exactly an amazing breakthrough product, its multiple recharging points serve a very useful purpose, and all for a reasonable charge. ®
More Charging Gear Reviews...

Scosche
Solbat2
Etón
Soulra
Solar
Freeloader Pico
LG
HFB-500

iDapt i4 multi-purpose charger
Compact and convenient multi-charging unit that'll accommodate most mobile devices.