Inside Opera 11: extensions and benchmarks
Take a peek at the nifty new alpha
An Extension uses the W3C Widgets configuration file (in XML), an HTML index page (and CSS if required) and the JavaScript file and any toolbar icons - all zipped into an archive. As with Chrome, extensions can't access secure https: tabs. There's a Hello World example here and a more structured step-through here. The Extension API isn't quite complete yet - developers can't yet communicate between scripts and popups. This will arrive soon.
Debugging is helped by the quite wonderful Dragonfly tool, essentially an IDE built into Opera - which allows modifications on the fly. Other browsers have helpful Developer tools, but none as impressive as this.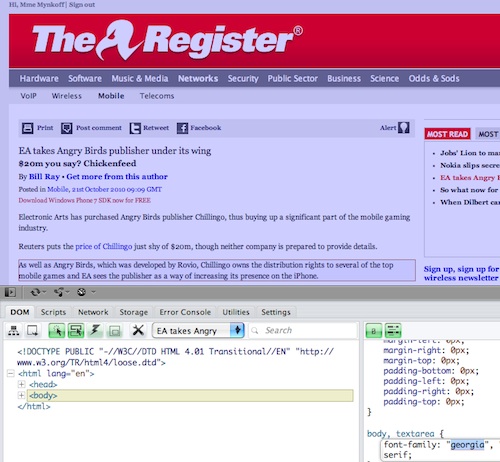 Ever felt like reading Bill Ray in Georgia?
Now's your chance.
Some searching questions were asked last week about security. Opera already has a very customisable browser, once you poke around. It has always pointed out that the lack of extensions is a positive.
Opera said it will search code for possible malicious behaviour, but it's hard to detect automatically.
Mail
Opera's hidden gem is its email client, and this receives a cosmetic makeover in the new alpha. Opera has moved to use native controls on Linux and Mac now, and there should be more such improvements, hopefully.
I've discovered a significant pent-up demand for a good email client, and lots of frustration with existing choices. Yet Opera's email client has understandably not been a priority - hopefully it will receive more TLC.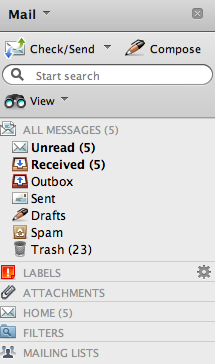 A more native-looking email client
One wonders what might happen if Mozilla ever decided to roll its email client Thunderbird back into its browser, now called Firefox. NASA tells us that time would slow down, and we may expect to see gravitational lensing.
Plenty more improvements are no doubt planned for the browser.
A word on stability. Trying an Opera alpha in recent times has felt a bit like cutting the brakes of a car to make the drive more interesting. This one feels the most stable yet, and is even a recent improvement no the stability of recent Opera betas. I guess it's alpha for feature reasons.
You can have a poke around for yourself, here. ®
Sponsored: Minds Mastering Machines - Call for papers now open