Juniper boasts billion buck quarter
And now for the $4bn year...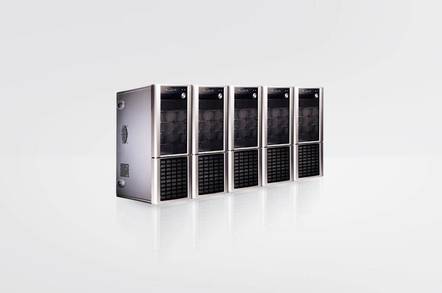 Like its rival Cisco Systems, Juniper Networks is dealing with a base of customers who want to spend money on new gear but are not – thanks to the Great Recession – sure that they should commit those funds quite yet.
In the third quarter ended September 30, Juniper boosted sales by 23 per cent, to $1.01bn, but this was only up 3 per cent sequentially. Net income was $134.5m, up 60.6 per cent. So Juniper is surely on the mend compared to last year when most IT hardware suppliers had to tighten their belts a bit. In the quarter, Juniper had $801.2m in hardware and software sales, rising 26.4 per cent, and services revenues hit $211.2m, up only 11.3 percent. Infrastructure product sales hit $607.6m (up 28.7 per cent), while service layer technology sales were $193.6m (up only 19.4 per cent).
Service providers accounted for 62.6 per cent of the company's sales in the third quarter, compared to 37.4 per cent for enterprise customers. That's nearly a ten point swing into the enterprise space in the past two years, which shows Juniper is getting traction among enterprise customers, particularly in financial services companies where network latency reduction means making millions of incremental dollars.
For the nine months, Juniper has booked just under $2.3bn in product revenues (up 25.6 per cent compared to the first three quarters of last year) and services sales of $606.9m (up 11.2 per cent). Net income for the nine months was $429.3m, up by a factor of 4.6 times compared to last year. It is hard to see this as anything but a decent recovery, but Wall Street is apparently not happy in after-hours trading as El Reg is going to press because the numbers are not even stronger than this.
Juniper generated $131.4m in cash during the quarter, which was not as strong as it had done in the prior year or in the second quarter of the year, but the company is sitting on a very big pile of cash - $2.7bn in cash and investments - and doesn't need to worry too much on this front.
Kevin Johnson, Juniper's chief executive officer, told Wall Street analysts that Juniper expected customer demand "to remain healthy" and that the company was well-positioned to benefit from the build-out of wireless networks and cloud computing infrastructure.
Robyn Denholm, Juniper's chief financial officer said the company had "good momentum" and was on track to deliver 20 per cent or higher revenue growth for the full year. Juniper's sales in the fourth quarter are projected to be somewhere between $1.10bn and $1.14bn, which is 19 per cent growth at the midpoint compared to Q4 of last year.
The compares in the fourth quarter are getting tougher, obviously, and it looks like as far as Juniper is concerned, the Great Recession is over. And so are the higher growth rates most IT companies have been showing in late 2009 and early 2010. Real organic growth - not just recovery spending - is going to be tougher sledding, particularly with so many tough competitors chasing network dollars. ®
Sponsored: Learn how to transform your data into a strategic asset for your business by using the cloud to accelerate innovation with NetApp