Virtual products rake in more cash than ads
In-app gear now worth more than advertising for social media
Social gaming and networking applications are now making more money selling virtual merchandise than displaying adverts, which is good news for closed shops that make such things simple.
This may also have implications for developers, who may find themselves following the breadcrumbs to iOS platforms.
The figures come from Flurry, and are gathered from more than 2.2 million active users. The numbers show that in January this year the amount of revenue generated from installed applications tipped over from advertising to in-game purchasing, with virtual goods now generating around 85 per cent of the almost $20m the sampled users generate every month.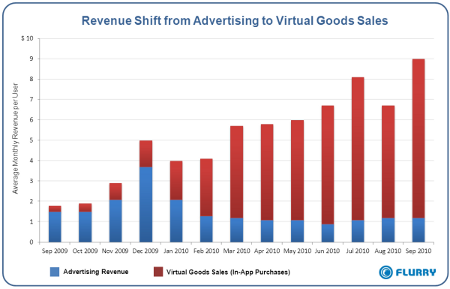 Blue is advertising; red shows people buying virtual stuff.
Flurry gathers its figures from code embedded in mobile applications. In this way, developers who embed the code get insight into application use, while Flurry gets to gather valuable demographic data like this. However, it's worth noting that this study is limited to "social networking and social gaming" applications - which obviously present greater opportunity for in-game acquisitions. Despite that, the data demonstrates the importance of in-application transactions, and bodes badly for fragmented platforms which have more difficulty supporting them.
In fact, the figures all come from iOS devices, as Apple's iTunes store supports such transactions pretty seamlessly. Nokia's Ovi also enables in-app buying, as demonstrated by the Symbian version of Angry Birds, which enables the player to call in an air strike for a reasonable fee.
But the Android Marketplace has no such mechanism, and Google's devotion to supporting multiple marketplaces makes it difficult to add one. Users are already confused by the various places from which one can buy Android applications; one can only imagine the additional complexity of having to tell each application where in-game transactions should be routed. Android might be open, but with that openness comes complexity.
The solution would seem to be to declare openness, then make oneself the default source of applications and services. That's what Nokia is trying to do with Symbian, and might work for Google too, but if developers see that iOS apps have a revenue stream that's denied them on other platforms, then they'll obviously follow the money and supply users will all the virtual tat they want to buy. ®
Sponsored: Minds Mastering Machines - Call for papers now open