Dane-Elec myDitto Nas device
LAN - and WAN - storage done right
SMB, UPnP AV and DAAP - the iTunes music-sharing protocol - are supported, meaning you don't need either of the USB sticks at home once you're up and running, but the Admin stick will help you get started - the cross-platform app automatically finds your myDitto on the LAN. When a new user first logs in using the myDitto app, a private directory is automatically created with that user's name. Files can be shared by placing them in the Public directory.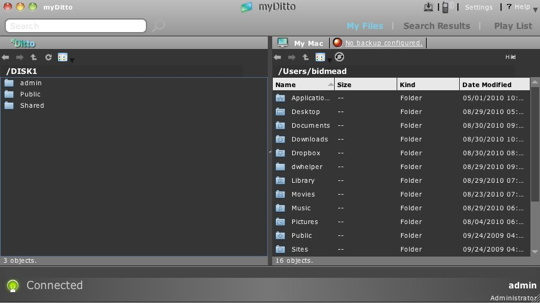 Remote access is easy
This dual-purpose Public directory is the myDitto's one main drawback. Files you want to share to iTunes and UPnP may not necessarily be files you want to make available to all your users. I'm assured that a firmware update later this year will fix this.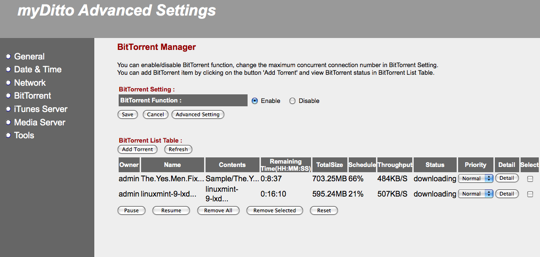 There's a BitTorrent client in there, if you look hard enough
Serious myDitto owners may want to max out the capacity and/or use the RAID feature. I tried both, installing a pair of new 2TB drives. The partitioning and RAIDing process took just over an hour, and of course leaves you with a blank machine, although all existing user metadata is preserved in firmware. Data can be restored by connecting the original drive through a Sata-to-USB interface to the second USB port at the rear, a somewhat clunky - although thankfully one-off - process that might usefully be streamlined in a future firmware update. I was able to carry this out with virtually no disruption to my three WAN test users.
Verdict
Potential rivals like the Pogoplug and the Iomega iConnect come cheaper, but without drives. They're simple to set up, but the myDitto is simpler, and its use of directly connected Sata drive(s) instead of USB allows for proper power-down control and RAID that puts the myDitto in a different class. ®
More Nas Device Reviews

Verbatim
MediaShare
HP MediaSmart
Server
Synology
DiskStation
DS410
MyXerver Pro
MX3800
Sponsored: Minds Mastering Machines - Call for papers now open

Dane-Elec myDitto Nas device
Easy to set up - and easy to share - network storage device.
Price:
£150 (500GB), £200 (1TB, as reviewed), £300 (2TB) RRP