Dane-Elec myDitto Nas device
LAN - and WAN - storage done right
Storage and media throughout the house was enough to sell me on the myDitto. But the real fun starts when you leave home. Because you - and mates of your choice up to a total of 30 - can have secure access to the device over the internet from anywhere in the world. Your granny among them: Dane-Elec has managed to iron out the geeky intricacies of net access and firewall traversal, boiling the process down to the simple insertion of a standard USB stick.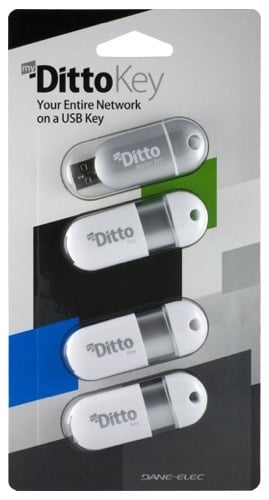 Access keys for your chums
One stick per pal, each stick keyed to the individual user so they can't mess with each other's data. Without the stick no one gets to do anything with the myDitto, unless they've chosen to authenticate a machine for access - which also requires the individualised stick. The exception is a special provision for mobile phone access, which uses a long coded number.
The review sample came with a single 1TB hard drive and an empty caddy for a second drive. Other versions come with a pair of drives that can optionally be RAID 1 mirrored if you prefer your data to survive a disk crash.
The device comes with a pair of prepared USB sticks: a silver-grey one that gives you Admin access and a white one that's set up for an ordinary user. As well as the authentication mechanism - keyed to the serial number that's hard-wired into every standard USB stick - the Flash memory holds three versions - for Linux, Mac and Windows - of a simple MyDitto application. You can run this app directly from the stick, so it's usable with your average locked-down corporate notebook - unless USB access is locked down too, of course.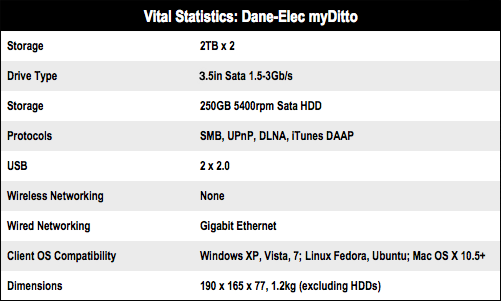 Sponsored: Minds Mastering Machines - Call for papers now open