Dane-Elec myDitto Nas device
LAN - and WAN - storage done right
Review Perhaps I'm getting cynical, but it's a rare event these days when a product crossing my desk positively fires me with enthusiasm. And when it comes to yet another disk device - we old journos call the subject of storage "snorage" - what could be duller? The myDitto from Dane-Elec is an exception on both counts.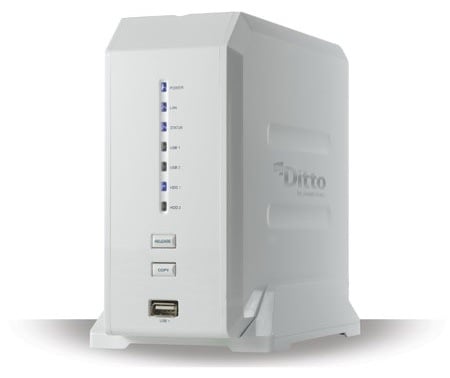 Dane-Elec's myDitto: sobre-looking yet a doddle to use
It's a small, hospital-white cabinet with room for a pair of 3.5in drives and a front panel displaying a column of blue status lights topping a couple of buttons and a USB port. At the rear is a second USB port and a Gigabit Ethernet port. It runs quiet and cool, and physically that's probably about as much as you need to know about it.
Yes, it's a Nas device. But done right this time. The extra storage appears as an SMB drive - a Windows-style share - on all the Linux, Mac and Windows machines on your network. All the media you have stored in the Public directory will also be UPnP-accessible across your LAN, which means that suitable software and compliant hardware devices will be able to play your music, show your pictures and run your movies. In addition, any music files in the same directory will appear as a shared iTunes source right across your LAN.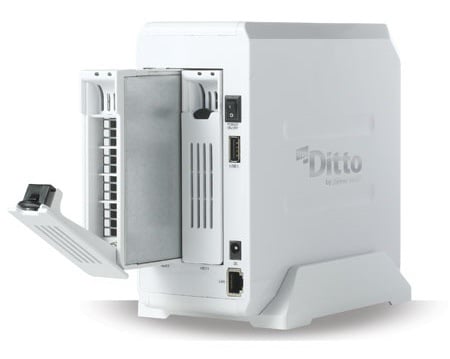 Caddied-up for two hard drives
And it'll take you all of two minutes to set this up. No software to install, no messing with your router.
COMMENTS
FINALLY!
finally a cross-platform, cross-service NAS!
this is what I've been waiting for, something that will be accessible from all OS (I have xp, win7, ubuntu, OSX and occasionally other *nix) and serve audio and video to the consoles!
now all we need to know is...
can it run crysis?
Looks good, but...
...considering that it would be possible to buy a "good-name" 2Tb SATA hard drive and a Synology DS110j NAS enclosure (which would appear to offer a considerably greater choice of network services) for under £200, I'm not sure the myDitto offers enough over the Synology to merit consideration for me, especially at about 30% more expense (for the 2Tb model).
Granted, the "remote access via USB keys" option is interesting, but on the evidence of this review, I think I'd rather have all the extra Synology utilities (LAMP stack, mail server, etc.) and £100 extra in my pocket. But then again, to be fair, I'm not convinced I belong to the myDitto's target market, which I think it would probably serve well enough.
*whoosh*
The concept of two-factor authentication has obviously gone straight over your head. It is intrinsically more secure to authenticate with something you have as well as something you know, and I'd far rather the inconvenience of carrying around the stick if it protects access properly.
http://www.my-ditto.com/forHome.aspx
Besides which, how are you going to make it plug and play without being able to run some software to do it? It's really gratifying that they have embraced Linux for this.
Benchmarks..
Would it have killed Reg to run some simple read/write tests on this thing? NAS boxes can be surprisingly slow. And it's not like it's trivial matter if you plan to actually use that storage.
Vital Statistics
If you take a look more closely at the 'Vital Statistics' table, then that says that DLNA is supported.