Medal of Honour
Worth a shot?
Send in the cavalry
Multiplayer is also a much tougher game. Noobs schooled exclusively in MoH's campaign mode graduate woefully unprepared for the rigours of its exacting challenge. And weapon and kit unlocks place the balance of power firmly in the trigger fingers of seasoned FPS players.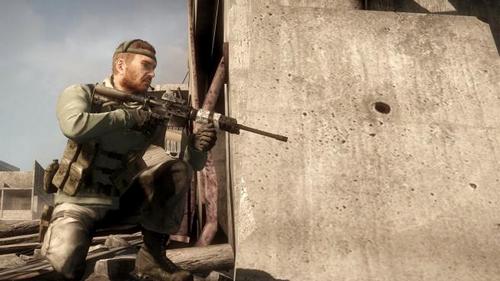 Hole in the wall , but no money
It's a surprisingly hardcore experience that sits somewhere between the immediacy of Modern Warfare 2's gung-ho shootouts and Battlefield Bad Company 2's more measured squad-based objective gameplay, mixing up map sizes to good effect to suit both game styles.
But multiplayer is ultimately let down by the inheritance of Battlefield's divisive dynamic spawn points, which on one side see you spawn suicidally beside team-mates under heavy gunfire, and on the other fighting countless enemy reinforcements as they pop out of thin air. And static spawn points and objective locations are also too easily dominated, especially by the heavy ordnance, and rewarded by kill-streaks.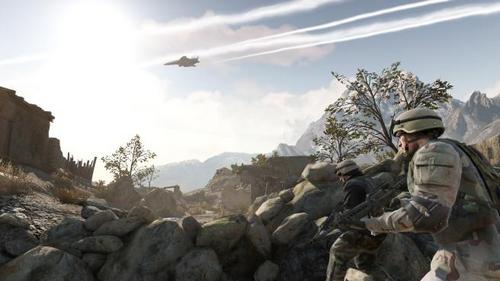 "Shoot it? It's our plane, numbnuts."
"Yeah, but Tom Cruise is inside!"
Verdict
Considered in the context of the franchise, Medal of Honour represents a successful reboot. Although short and flawed, the campaign mode offers a robust shooter with excellent pace and variety. And multiplayer should carve out a hardcore niche for itself as a more challenging battlespace than MW2 or BFBC2. But, by positioning itself as the more serious alternative to both, and by staging its first deployment in the current real-world theatre of Afghanistan, it's difficult to see where EA can take the series from here. ®
More Games Reviews

Fifa 11 vs
PES 2011
Enslaved:
Odyssey to the West
Castlevania:
Lord of Shadows
F1 2010
Sponsored: Minds Mastering Machines - Call for papers now open

Medal of Honour
A successful attempt to resuscitate the franchise, but one which falls well short of troubling Modern Warfare's hegemony. Available on Xbox 360 (tested), PS3 and PC.