WTF is... DLNA?
A cure for media playback blues - or will it just have you seeing red?
DVD and Blu-ray Disc players, internet radios, sound systems and projectors, TV set-top boxes and the TVs themselves have traditionally been a motley crew, arguing among themselves in so far as they communicate at all, about who should do what and to whom.
The noble aim of the DLNA - the Digital Living Network Alliance - is to make the whole schmeer sing from the same songsheet.

Only this month, LG announced that its debut Windows Phone 7 handset, the Optimus 7, will support DLNA-streamed playback. Ditto audio systems from Marantz and Denon, which will also be compatible with Apple's rival technology, AirPlay, itself derived from iTunes' audio streaming system, DAAP. Sony's internet TV receiver, the SMP-N100, can present DLNA-sourced content, just like the giant's tellies can.
Your average geek has been able to do all this cross-box streaming this for a long time without anybody's help. Set up your file shares, open a few ports if necessary, perhaps throw in some command line incantations, and with a combination of UPnP AV, SMB, DAAP and other magic, the multimedia can be coerced to flow across the LAN.
The promise of the DLNA, held out since the organisations formation some seven years ago, is to offer the same feature-set out of the box to acronym-phobic consumers who wouldn't know a MAC address from a hamburger joint.
DLNA in action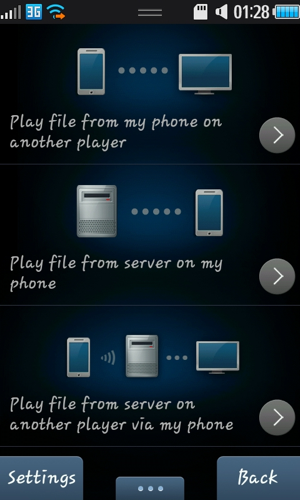 The Samsung Wave mobile phone rather oddly conceals its DLNA functions under Connectivity in the Settings menu. But the three main features of DLNA/UPnP AV are all here. The top option allows media on the phone to be served over the LAN to any DLNA-capable player. The middle option turns the phone into a DLNA player, accessing media from one or more servers on the LAN. The third option establishes the phone as a DLNA controller. In this mode, the phone operates as a remote control, deciding which media from any LAN server is played on any of the available DLNA players connected to the LAN.
COMMENTS
Sir
I didn't vote you down, but I expect this comment may have had something to do with it..
"because your TV won't play your pirated videos."
bit of an assumption there, b'aint?
Half right, I'd say
It's true that many TVs (and other playback devices) are decidedly lacking in format support. But I do think it's still appropriate to blame DLNA for at least part of that.
Most of us here are technical, and understand all the complexities and interactions involved. But ordinary punters are not. And if DLNA is to mean anything useful, then it should surely be some guarantee of compatibility beyond just "yep, I can probably show you there's a server on your network."
The point of marks such as these, from the view of the novice consumer, is to make things simple and to make it easy to make purchasing decisions. DLNA ought to guarantee that when you buy a TV with the DLNA logo, and connect it to a network on which you have a DLNA server, you can access if not all, then certainly the vasty majority of your media.
You can lay the blame at the door of the TV makers, or the software, or wherever you like.
But ultimately, as far as the consumer is concerned, it is the fault of DLNA, which paints an image on its own website - just look at http://www.dlna.org/digital_living/possibilities/ - that is far removed from the reality experienced by many consumers.
If an organisation say "DLNA Certified® products are built to work together, even though they come from many different companies" and that turns out not to be the case, then I think it's pretty fair game to blame the organisation.
RAAAAAAAAGE
OK, not really, but seriously how can you have an article mentioning Boxee but not the much more popular system it's derived from (XBMC)?
Does Boxee have significant DLNA functionality that doesn't exist in XBMC? I haven't seen anything to indicate that. Boxee's selling points vs. XBMC, as far as I can tell, are the social/Web 2.0 aspects of its interface, the new/forthcoming release of the Boxee Box (or whatever it's called) which means you can put it in without building your own HTPC or hacking an Apple TV, and *maybe* integration with Hulu (but not, AFAIK, Netflix). Everything else XBMC does just as good if not better.
Not trying to knock Boxee or rake El Reg over the coals too much here, but AFAIK XBMC is significantly more popular and if you're going to mention one you should probably mention the other too.
That said, TY for the article - this is an obscure but increasingly important subject now that just about everything AV is coming with an ethernet jack in the back these days.
Cheers!
DLNA is for geeks only
DLNA is in no way ready for the mainstream. I've been posting on AVForums for years both giving and getting help with DLNA, and the best conclusion that I can make is that you will always end up hitting at least one hurdle, but more than likely several.
My best advice would be - find out what formats your renderer supports and encode/transcode to those formats from the outset. This is especially true for NAS devices that don't have the muscle to transcode on the fly.
What's particularly annoying is that a lot of renderers will play back media from a USB device, but will not play it back over DLNA (e.g avi files on Bravia TVs).
UPnP
UPnP in AV equipment still requires you to enable UPnP on your router's firewall which means your DNLA equipment can happily go punch massive holes through your firewall without your knowledge. Once you've enabled UPnP just to get your AV services to work, you're open to vulnerabilities on your PC from malicious web sites and apps that can punch holes in the firewall.
No chance UPnP is getting enabled on my network.