Carphone Warehouse slashes Samsung Galaxy Tab price
Under £500 by all of a penny
Carphone Warehouse has updated its Samsung Galaxy Tab sales page with a price: £530 without a data contract, or £500 if you take out a tenner-a-month data deal with Talk Mobile.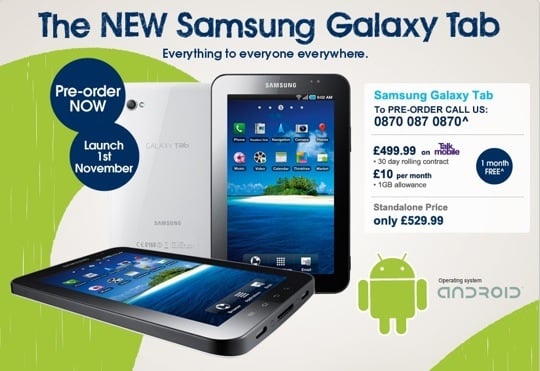 That's certainly less than the £600 Amazon.co.uk wants - marked down from an £800 RRP, the site states - for the 7in Android 2.2-based, 3G-enabled tablet, and presumably CW hopes that the (slightly) even cheaper airtime-bundled offering will appeal to punters even more.
The £10 deal operates on a 30-day rolling contract and includes a gigabyte of data transfers.
The CW price puts the Tab right up against the 16GB 3G-enabled iPad, which retails without airtime for £529.
Vodafone and Three have said they too will offer the Galaxy Tab when it ships on 1 November. Neither has said how much they will charge for it. ®
COMMENTS
Galaxy Tab USPs over the iPad...
Extra storage up to 32GB via microSD slot, 3.2MP rear camera, 1.3MP front camera, use as mobile phone, Bluetooth 3.0, full Adobe Flash support, almost half the weight (0.84 lbs), has USB port, output to TV, (and it runs Android).
Technically it offers a lot more than the ipad. Whether you can download 20 thousand or 20 billion apps is irrelevant. Just check that apps are available for what YOU want to use your pad/tab for and make your decision based on that along with the hardware itself.
Now that Adobe have released the Andoid SDK for AIR there will be 1000's of new Android apps coming out as it's so easy to build apps using Air and Air is cross-platform compatible with PCs and Macs alike. (But not iphone because of obvious Apple hatred of Flash)
Slash and Burn
Don't worry Droid Fans, it will be on clearance at Morgans soon enough
Well...
Samsung Mobile Strategist:
"Well we can't sell it for less than a Galaxy S - it's got a bigger screen."
Samsung Sales:
"Oh bugger."
Potential Samsung Customers:
"Forget it."
Oh what a mess the mobile vendors have got themselves into with the "subsidised" handset pricing model. Gadgets like this should sell for £300.
So, let's see...
It's the same price as the equivalent iPad but with a smaller screen? And less apps...
What was its USP again?
will wait for reviews and comparison with dell streak
thing is, it's a samsung... who aren't noted for the longevity of the *support* of their products. that is to say, will there be a newer model in 6 months time with samsung losing interest in this one?
it still irks me that Dell did a deal with O2 for the streak, only arguably the worst provider of 3G services in the UK...and the streak is also overpriced.
I think I will ride out early adopter price premiums and see what happens.