Apple MacBook Air revamp snapped, posted on web
Prototype points to new design with more ports
Apple fans are eagerly anticipating Wednesday's Mac-centric company announcement, particularly since a few snaps of what are claimed to be internals of a prototype 13.3in MacBook Air popped up online this weekend.
The snap, posted by Engadget, shows motherboard, four separate batteries, a bank of Flash chips - presumably the machine's solid-state storage - connected by Sata, plus Micro DisplayPort, USB, SD card slot and MagSafe power connectors. A further port can be seen, but it's clearly not USB - FireWire 800, perhaps?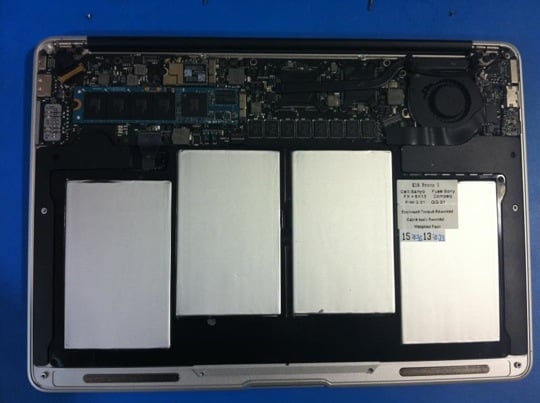 Source: Engadget/Anonymous
The metal case appears around the edge.
Subsequently, AppleInsider claimed its moles had said that while the shot shows a 13.3in model, Apple is also preparing the much-rumoured 11.6in Air, both of which will be offered alongside each other, the latter as a cheaper, more portable version.
Both models will be unibody machines, with single-button trackpads. The machines will be as thick as the USB port they contain. Think of a flatter MacBook Pro, we'd say, so flat sides rather than the taper-to-a-thin edge design we saw with the original Air. You can see the same black, plastic wireless port at the back that can be seen on the latest MacBooks, for instance.
All will undoubtedly be revealed on Wednesday evening. ®
Sponsored: Minds Mastering Machines - Call for papers now open