Dead baby taunting troll feels wrath of law
Trolls, beware: the moderatrix has teeth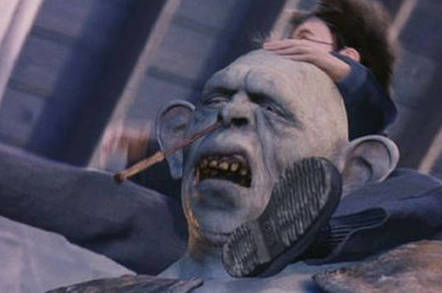 Opinion Do not piss off the moderator – or a jail sentence could await you. In fact, do not generally piss people off on the net, or the same may apply, as unemployed Colm Coss of Ardwick, Manchester is likely very soon to be finding out.
Mr Coss is a troll, with the particularly unpleasant habit of seeking out online tribute sites – and leaving vicious or obscene messages about the deceased. His targets have included Facebook memorials to victims of high-profile tragedies around the world, which he then set about attacking with sexual innuendo.
Also singled out for Coss' attention were a car crash victim in Australia, a dead baby in the US – and a Facebook page dedicated to the late UK Big Brother star, Jade Goody.
The means to his downfall lay in s127 of the Communications Act 2003, which makes it an offence to send messages that are "grossly offensive or of an indecent, obscene or menacing character".
The offence occurs whether those targeted actually receive the message or not (since the core of this offence is about the sending of the message): and in the case of DPP vs. Collins in 2006 the House of Lords determined that a message is "grossly offensive" if it was likely to cause gross offence to those to whom it relates (in that case ethnic minorities).
Prosecution in such cases was deemed not to be a breach of the Human Rights Act. According to a report in the Mail, Matthew Siddall, prosecuting, said: "The defendant told police that he finds the comments amusing. He said it causes reaction."
His downfall came about only after he distributed photos of himself to residents on his street, saying he was an internet "troll". His neighbours rang police.
According to District Judge Khalid Qureshi: "This crosses the custody threshold". Coss was granted bail and will return to court for sentencing later this month.
Bootnote:
While we are sure that none of our own readers would engage in such bad behaviour, the use of this legislation in this way is yet one more strand of regulation that is increasingly likely to be used to tame the net in future – and it may have repercussions not just for trolls, but also for the entire slashdot genre.
Last year, we reported on the "Girls Scream Aloud" trial, which looked set to become a landmark case in the evolution of Obscenity Law in the UK – but which was abandoned when the CPS decided that there was no case to answer. Had the police gone for the lesser charge under the Electronic Communications Act, the content of the story may well have been considered grossly offensive to members of that band and the author could have ended up in prison after all.
Sponsored: Minds Mastering Machines - Call for papers now open