Police turn to extreme-sport mobe sucking
Like getting water out of a phone
Mobile forensics company CY4OR is offering police silica-lined bags, into which they can drop waterlogged phones in the hope of extracting the water, and therefore some useful data too.
The bags have been knocking around for a year or so, under the Bheestie brand and sold to those who think they might drop their phone in the drink while surfing, skiing or doing those other eXtreme sports that are so popular these days. The problem is that no-one ever thinks that's going to happen, and by they time they find out how wrong they were it's too late. But CY4OR, who spends its time analysing phones for the law enforcement community, reckons drying out is just what handsets need.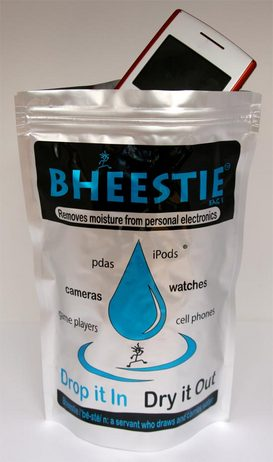 Mobile phones are a vital part of police investigations these days - the second thing a copper checks a body for (after a wallet). The phone will tell the police where it's been, who it's spoken to and in many cases what was said too, once you start to explore the cache created by social networking and mapping apps you can plot out much of an individual's life, assuming you can lift the data out of the handset.
Equally important - the handset will give up all that information without having to muck about with the Single Point of Contact, who will need appropriate authorisation to make contact with the network operator and find out what it knows about the phone's history.
It was never true that a smiling master criminal could drop his phone in a glass of water making it impossible to read, but it does make it more expensive to retrieve that data. So the $20 baggy could save a lot of money, or (more likely) enable easy retrieval of data that would otherwise be discounted as too expensive to bother with. ®
Sponsored: Are DLP and DTP still an issue?