Fifa 11 vs Pro Evolution Soccer 2011
It's all kicking off
The final score
Commentary is still poor in both titles and while Fifa makes a slightly better at it, the removal of Mark Lawrenson from Pro Evo is a huge improvement. However, mistakes and sheer stupidity are still present. The developers must enjoy Private Eye's Colemanballs commentary cock-ups column. When you miss a shot and get told "not a lot more he could have done with that one", you have to roll your eyes - O could have hit the target for starters...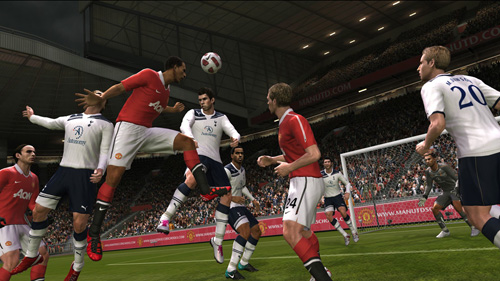 Ferdinand got Baled on
While Fifa has all the kit and team names intact, PES remains partially licensed - a serious downside. More teams are included this year but the only two from the EPL are Man U and Tottenham Hotspur, which is simply not good enough. Having correct kit and team names is part of the appeal and, although it boils down to finances and has no effect on gameplay, it does disappoint, especially when to play as my favourite team I have to settle for "North London", dressed in a kit that looks closer to Man Utd.
Verdict
The heated debate will rage on even more than ever this year, with PES fans given a decent leg to stand on. Pro Evo 2011 is a fantastic game in its own right but while it's fun to play and generates better action and goal chances, I can't help think Fifa is still a superior game overall.
It depends, though, on what you look for in a football game. If you prefer realism then Fifa easily takes the honours. It's smoother, more of a challenge and has the full licensing. The difficulty takes a while to get used to and goals are harder to score, but when they come, there's an added sense of satisfaction, especially when hammered in from a distance.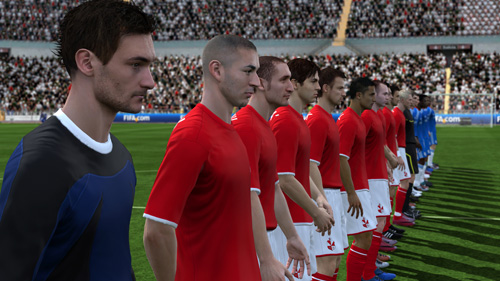 When they line up together, Fifa takes the trophy
If you prefer playability, with no care for official team names or realism, then Pro Evo is every ounce as good. It's an entirely different game to Fifa, but just as fun. Goals are regular and players are harder to tackle – which opens up more space for greater action.
If I had to choose one, though, I'd go with Fifa - it's the more professional and slicker of the two, and feels more of an overall challenge. However, I no longer need to squint back. PES has certainly bridged the gap and, who knows, next year I may switch teams again. ®
More Games Reviews

Enslaved:
Odyssey to the West
Castlevania:
Lord of Shadows
F1 2010
Dead Rising 2
Sponsored: Minds Mastering Machines - Call for papers now open

Fifa 11 vs Pro Evolution Soccer 2011
Difficult to master, but realistic and fantastic online. Available on PS3 (tested), Xbox 360, Wii and PC.

Fifa 11 vs Pro Evolution Soccer 2011
Improved engine makes for excellent gameplay but still lacks realism. Available on PS3 (tested), Xbox 360 Wii and PC.