Fifa 11 vs Pro Evolution Soccer 2011
It's all kicking off
Painting the stadium
PES 2011 has certainly seen graphical improvements. The camera angle is naturally closer to the action and movements are fluid and more human. Enhanced facial animation and player movement makes for a realism that was lacking in previous versions. Cutscene animations are smooth, and the characters look very much like their real-life counterparts, especially posterboy Lionel Messi.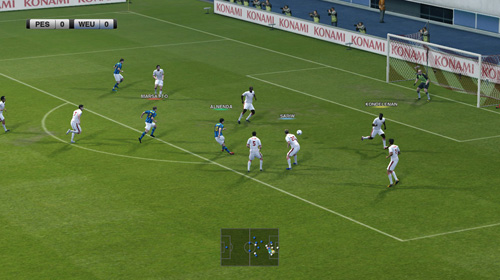 PES brings you closer to the action
However, as much as the in-game animations have improved, the arcade feel remains. Sluggish at times, the engine still frustrates and players appear somewhat detached from the surface they're playing on. It's difficult to place, but while PES 2011 is undoubtedly a huge improvement, it still feels like an entirely new engine that'll take a few seasons of development to polish. Foundations are set, though, and the future is positive.
Fifa 11 on the other hand doesn't suffer the same setbacks and continues with its already successful engine. Graphics are largely unchanged, but movement has been improved with the addition of player personalities. This brings greater realism and allows footballers to act more like their real-life equivalent - though there's no bedding £1000 hookers. The Drogbas are able to out-muscle defenders and hold the ball up better, the Ronaldos take to the field with arrogant swagger and while I haven't yet seen any Rob Green or Flappy-anski goalkeeping mistakes, I have found it impossible to score with Emile Heskey.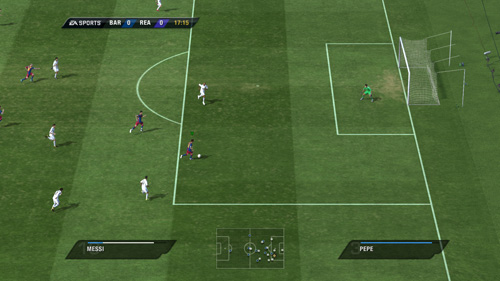 The field of view is wider in Fifa
Graphically, Fifa brings home the three points with ease. At first glance, PES is perhaps more impressive, but only due to the closer default camera angle. This position can't exactly be copied in Fifa, but when both views are a similar distance from the action, Fifa is in a league of its own.
Sponsored: Minds Mastering Machines - Call for papers now open