Opteron 6100 server ramp underway, says AMD
Q4 pick up for 4100s?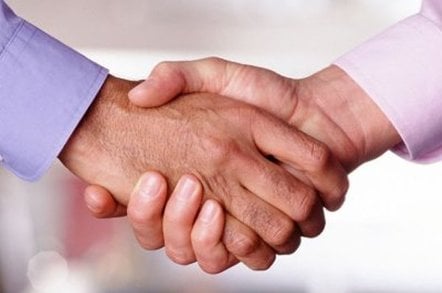 With a resurgent Intel grabbing mind share among the world's x64 server makers this year and very likely a few handfuls of market share, too, AMD's been in a tough spot.
If the company's third quarter numbers are any indication of performance, though, AMD's getting some traction with its Opteron 6100s and is looking forward to a ramp on its Opteron 4100s
Given the aggressiveness of the Intel launches in March - the six-core Westmere-EP Xeon 5600s for two-socket machines and the eight-core Nehalem-EX Xeon 7500s for larger servers - and the enthusiasm with which server makers adopted and pushed boxes based on these chips, just holding steady is winning for AMD at this point.
And with the company losing server market share in the second quarter and probably slipping again in the third quarter when all the market data is fudged up, AMD is looking to grab that share back starting in the fourth quarter.
AMD's twelve-core Magny-Cours Opteron 6100s came out swinging in March for two-socket and four-socket boxes, with very aggressive price/performance compared to the Xeon 5600s and Xeon 7500s, but server makers took their sweet time getting systems out the door.
There are a lot of reasons for this, but mainly it came down to Intel not requiring a chipset or socket change with the Xeon 5600s, which just plugged into the same Xeon 5500 servers. It was easier to put a refreshed Xeon 5600 box into the field than it was to design a new Opteron 6100 machine with AMD's own chipsets, which were not socket compatible with the prior Opteron 2400 or 8400 processors.
In that time, IBM has grown tepid with Opteron-based machines, and only sells one box. Oracle has killed off Sun's Opteron-based servers and is now only selling Xeon-based machines in the Sun Fire line. Fujitsu, meanwhile, has stopped developing new Opteron machines.
That said, Acer has stepped up and is aggressively selling Opteron servers (like Sun Microsystems did six years ago), and Hewlett-Packard and Dell have reasonably broad Opteron 6100 lineups. The latter two are the main reason why the Opteron server chip business hasn't cratered at AMD, and that is because some companies now have a preference for Opteron chips and they demand these boxes.
Dirk Meyer, AMD's president and chief executive officer, said in a call with Wall Street analysts the Opteron 6100s represented more than half of server processor revenue in the third quarter. Many server makers only got their machines in the field 90 days ago, so the Opteron 6100 ramp has been slower than AMD would have liked.
"The Opteron 6000 is ramping pretty well," said Meyer, referring to the generic name of the server platform family that uses the Opteron 6100 processors. "I would characterize the ramp so far as good, but not as good as we think we can do."
And that brings up the six-core Lisbon Opteron 4100s, which are aimed at single-socket and two-socket servers, which launched at the end of June.
The Opteron 4100s are aimed at inexpensive or low-thermal servers, and vendors have been pretty slow to adopt them. Meyer said it takes time to qualify the boxes and there was no appreciable revenue from these chips yet.
But cloudy infrastructure buyers could soon be picking these things up by the thousands and tens of thousands, even if they are not being widely peddled by the tier one server makers. And that is pretty much the game plan. The qualification process for machines based on the Opteron 4100s is wrapping up, so it will be interesting to see if AMD's cheap two-socket server gambit will pay off.
While AMD's guidance for computing solutions revenue for the fourth quarter is flat, Meyer hinted that server chips could start pulling their weight and perhaps pushing some profits down to the bottom line.
"We have an opportunity to do better than flat in servers," Meyer said.
AMD changed platform types this year, condensing Opteron 1000 (single-socket), 2000 (two-socket), and 8000 (four- and eight-socket) platforms down to Opteron 4000 (one- and two-socket) and 6000 (two- and four- socket) platforms, and other chipset makers stopped making chipsets for the new Opterons, too.
Recession favors Xeon
This was a lot of change for server makers to absorb in a down economy, and many of them simply put all or most of their resources in the Xeon platforms from Intel. This may not turn out to have been wise in the long run, but there is no long run any more in IT. We live in a succession of short runs.
In the third quarter, despite these many transitions, AMD's server revenues were roughly flat, said Meyer, and so were shipments and average selling prices. That was despite much more aggressive pricing with the Opteron 6100s from AMD, which implies that those companies going with Opteron 6100s are spending the same money and getting faster processors, thus keeping revenues about the same. This would be good news for AMD if Intel was not growing its server shipments and revenues.
Meyer did not offer much color on when the next generation of Bulldozer Opteron chips for servers would come out. Partners will see limited samples of Bulldozer chips (that's the 16-core Interlagos for the Opteron 6000 platforms and the eight-core "Valencia" for the Opteron 4000 platforms) before the end of this year, with volume samples to partners early next year and volume production at some vague time in 2011.
The good news for AMD is that this time around, the Interlagos and Valencia parts will snap right into existing Opteron 6000 and 4000 platforms, respectively. The engineering work will be minimal, and AMD will see a nice bump like Intel has seen this year.
That's the theory, at least. A lot depends on what the Sandy Bridge-EP chips from Intel for dual-socket servers looks like. ®
Sponsored: Minds Mastering Machines - Call for papers now open