Ixos Divo 2.1 iPod dock and speakers
Sound reinforcement for your PC or TV
Location, location, location
Testing with an AAC file using the line input from iTunes, the solid bass on Donald Fagen's Security Joan had the sub grumbling, bordering on the flatulent when set to 31, around its max. Dropping to 22 was a nice balance, with warmth and clarity. Down to 18 and the overall bass sound was well defined, but no longer felt. Treble goes up to +14, which might be OK for dogs but is way too crispy. At +6 there was plenty of sizzle without the earache, but if the sub is set around the early twenties, then treble boosts probably won't be necessary except when listening at quieter volume levels.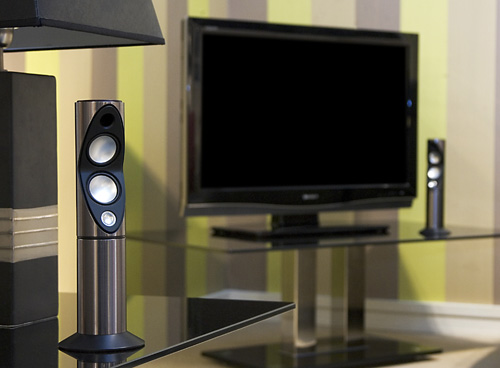 No surround decoding or spatial enhancements, but still adds a boost to a telly
The sub isn't all about grunt and grumble though, tests with Bach's Well-Tempered Clavier from an iPod revealed the capacity of the Divo's sub to bring out the more muted resonances of an instrument. Likewise, when using the line input to listen to the The Clash's Rock the Casbah from CD, the rubbery twang of the bassline was more evident, rather than it simply becoming a pronounced booming.
While desk real estate can limit speaker positioning, spacing the satellites farther apart is worth experimenting with. Moving from either side of a monitor to four foot apart significantly enhanced the soundscape, which had seemed a tad lacklustre. In tests, John Martyn's Solid Air really got some air, receiving pleasant lift and improved detail.
Movies also benefit, with Repo Men grumbling away quite nicely, with just a slight notch up on the top end to keep the dialogue clear. In fact, as Ixos readily suggest, the Divo could do the audio honours for a TV, and it certainly has sufficient volume to deliver in a small to medium sized sitting room, and wouldn't look out of place either.
Verdict
While purists would want additional aux inputs (they always do), the Ixos Divo does offer a level of convenience that covers most undemanding sound system scenarios, including cabling and iPod remote control. Be prepared to experiment with the positioning and the various sound balance settings and you'll get more out of it than you might have imagined. ®
More Audio Gear Reviews…

Ten Essential
Premium
iPod Speakers
Arcam
Solo Mini
Altec Lansing
inMotion
Compact
Sonos
ZonePlayer S5

Ixos Divo 2.1 iPod dock and speakers
Attractive 2.1 sound system that pairs nicely with PCs or living room TVs.