Ixos Divo 2.1 iPod dock and speakers
Sound reinforcement for your PC or TV
The cable guys
Admittedly, most users will plumb it all in and leave alone and the connection will be firm and secure from new. Even so, this choice of connector has revealed its shortcomings, as the slightest repositioning of the dock would traumatise the connection.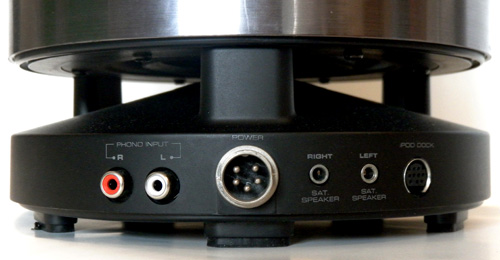 Vintage connectivity revisited: a mini DIN8 connection (right) is used to link with the dock
Talking of connections, besides the mini-DIN, the dock also has a 3.5mm jack input, for other portable audio sources, and a mini USB input to tether it to your computer, so your mounted iPod can be linked and sync'd to iTunes. The dock responds to the remote control, handy if the sub is on the floor, and features a status display with bright, segmented lettering revealing input source and the toggling to volume or bass and treble levels when tweaked from the remote.
Ixos somewhat redeems the Divo from its dock cabling issues, by including speaker cables of two different lengths: 0.5m and 4.5m. At both ends, gold-plated 3.5mm mono jacks are used to connect to satellites to the sub and having cable length alternatives keeps the desktop option tidy and gives room for manœvre when floor positioning the sub unit. However, this idea does seem rather inconsistent given that just one long dock lead is supplied.
The sub features additional connectivity having stereo phono line inputs for use with your PC's output or AV separates. It also has a main power button that will toggle through the inputs modes with repeated presses, with its status LED changing colour for iPod (green), Aux (orange) and Phono (red). Bass output and overall volume can also be controlled from its front panel buttons.
In use, the Ixos Divo proved itself to be fairly loud but certainly not deafening. The iPod dock option was left wanting though, being a fair bit quieter than the aux and phono options. Moreover, it soon became obvious that having the sub on the desk was not only a bit of an imposition in terms of space, but it didn't sound that great there either. Ixos describes the sub as an 'Acoustic Air Spring passive radiator subwoofer'. Whatever the science behind that, sonically it seemed mismatched, and testing the positioning on the floor proved to be a great improvement. Presumably it projects and disperses the low frequencies better there, than when heard on a tabletop.
The remote accesses all the Divo's functions and controls iPods too
While some might opt for maximum effect, it's really worth experimenting with the sub levels and bass and treble controls. I prefer to listen to music flat, so the mix isn't flattered artificially, but with this sort of set-up, the sub is integral and tweaking is necessary so it sits nicely with the satellite speaker playback.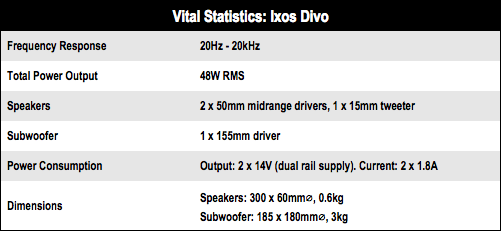 Sponsored: Minds Mastering Machines - Call for papers now open