3 bigs self up as biggest 3G network
For now at least
3 is claiming to have the biggest 3G network, which if it is true won't stay true for long.
Orange made the same claim for itself based on its population coverage, but advertised it a way that (as the Advertising Standards Authority decreed) could be misinterpreted to mean geographic coverage. 3's claim covers both angles, and is the result of spending more than £400m nearly doubling the number of base stations - something it has to shout about before T-Mobile gets to take the credit.
Countrywide 3 now has around 12,400 base stations, compared to the 7,500 it had in 2007. But explaining that is proving so difficult that the company will be providing shop staff with an augmented-reality app using Layar to overlay base stations on the skyline, colour-coded to show what's new since 2007: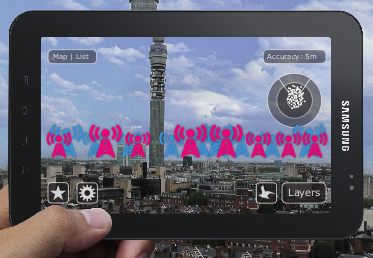 No, you can't have a copy, it's for retail staff only
The operator also reckons it's now carrying half the country's wireless data - 100TB a day, which accounts for 97 per cent of the overall traffic including voice. 3 is publicly very pleased with that, but just like the other operators voice still brings in around two-thirds of company revenue - so the three per cent of traffic that is spoken is subsidising all those YouTube sessions to an enormous degree.
Still, 3 is right to be proud of what it's achieved with its network, even if it's going to be increasingly sharing those achievements with Everything Everywhere as the networks merge under the agreement with T-Mobile (to which Orange hastily signed up when it started merging with T-Mobile).
Not every base station will be shared with the combined outfit, but the vast majority will and a lot of them already are. So tiffs over who has the biggest network will have to be with O2 and Vodafone, at least until the operators have 4G networks to boast about. ®
Sponsored: Minds Mastering Machines - Call for papers now open