Sony Reader PRS-350 Pocket Edition
Sony shows the rest how it's done
And Sony gets thumbs up for including a batch of English and translation dictionaries, accessible directly or by double-tapping a word in an e-book. You can only use one dictionary at once, but swapping is straightforward. Words can be highlighted, as can all the instances of the selected word, if you choose.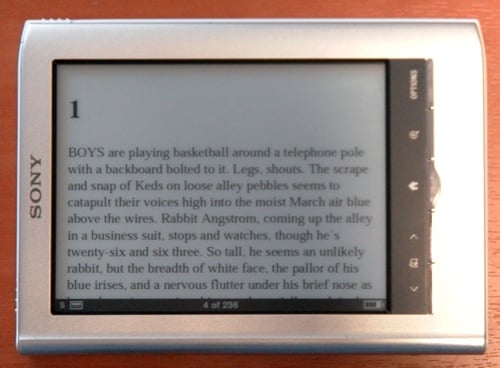 The Reader's odd shape makes sense when you hold it in landscape orientation
Incidentally, Sony wins Reg Hardware's Jack Vance 'what the bloody heck does that mean' award for including a dictionary able to present definitions for all the recherché terms and archaic verbiage I threw at it.
And it's only £160. Cheaper than all but the lowest price Android tablet, that, and with a darn sight better battery life - two weeks' continuous reading, according to Sony, and I can well believe it.
But... it's still £51 more expensive than the new Kindle, which comes with Wi-Fi, and pricier too than the Kindle with 3G. Lack of connectivity doesn't bother me, but the thought I can get an e-book reader with a comparable-quality screen and twice as much storage for a lot less money does.
Verdict
Compact, cheap and easy to use - what better write-up can a handheld gadget get? Sony's Reader Pocket Edition is all of these, making it as close to the e-book reader ideal as any of its rivals, and closer than most. Only its inability to present unprotected PDFs out of the box grates, and the absence of Wi-Fi and storage expansion may disappoint some potential buyers. But Sony must take note of Amazon's Kindle pricing. ®
More E-Book Reader Reviews

Amazon
Kindle 3
Samsung
E60
Apple iPad
3G 32GB
Viewsonic
VEB620

Sony Reader PRS-350 Pocket Edition
Does-what-it-says-on-the-tin e-book reader that's light on the pocket - an all ways - and touch-friendly.