KeyCase iPad Folio Deluxe
The tablet case with a built-in keyboard
You don't need to open it to charge either the iPad or the keyboard, the latter through a micro USB port. KeyCase includes a cable for this, but you'll need your own AC adaptor or computer to supply the juice. You can use the USB charger that comes with the iPad.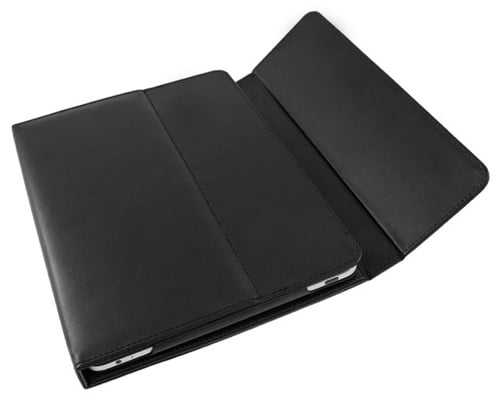 Folds up neatly and securely
Alongside said USB jack is a physical on/off switch, preserving the battery if you're not going to be using the keyboard for a time.
But I come back to the battery life. The manual says, "three years", and adds "if they [sic] are short of power, replace them". Yes, but how? A slide-out tray would be the obvious approach, but no, you have to rip out the well-glued keyboard out of the case to get at the hatch on the back. Or, rather, I assume so. I didn't go that far because KeyCase will want it's review unit back.
Now your average Apple fashionista may have long since replaced their Folio by then, or the thing may have come to bits of its own accord, but there's a principle at stake here: products, even accessories, should last. You might, for cost reasons, chuck a printer away when the ink's finished, but you won't do so because the supplier has made it nigh-on impossible to swap in a new cartridge.
Verdict
For something so obviously knocked up in China, the KeyCase is actually quite good. The language in the "manual" is atrocious - "iPad is in searching Bluetooth keyboard working situation" - but the keyboard isn't bad and provides some handy iPad-specific functions. I'd say £65 is a bit pricey, but not ridiculously so. All things being equal, I'd rate it highly, but its hard to recommend an accessory that may be useless - or damaged after an over-agressive attempt to replace the battery - in three years' time or less. ®
More Android Smartphone Reviews

Apple iPad
3G 32GB
Ten Essential...
iPad Accessories
Ten Essential...
iPad Apps
Road Test
Putting the
iPad to work
Sponsored: Minds Mastering Machines - Call for papers now open

KeyCase iPad Folio Deluxe
Leather iPad case that combines good looks with an integrated Bluetooth keyboard