KeyCase iPad Folio Deluxe
The tablet case with a built-in keyboard
But it is designed for the iPad - mostly. It's not a generic Bluetooth keyboard making do. It has an Apple Command key, and function keys that call up the virtual keyboard and the iPad's global search screen. It has a handy Home key and controls for the iPad's audio volume and music playback.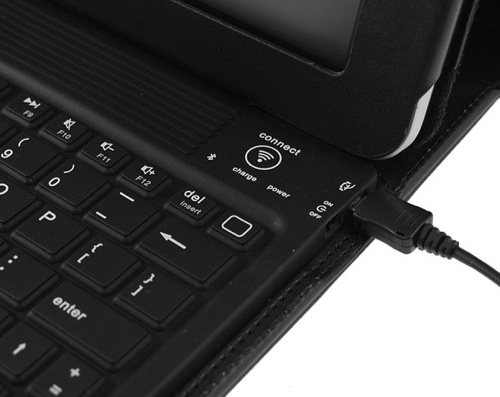 The keyboard's battery is charged separately
Any smaller-than-usual keyboard has a slight learning curve, of course, but I found I got going quickly and accurately with this one. It's certainly a decent, if quirky, alternative to the virtual keyboard, especially if you see yourself thrashing out pages of prose at a sitting.
The keyboard has a notch at the back into which you can tuck the panel of the folio on which the iPad is mounted. The angle won't suit everyone, but the area above the keyboard is ribbed, so you can tilt the screen at other angles too.
A large flap tucks over the side of the iPad to keep it in place, but it's a faff to get in and out, so the assumption has to be that you'll keep your tablet in the case. KeyCase loses points for the wee glue overspill that got stuck on my iPad. The Apple device folds down over the keyboard - another reason for the silicone key cover - and another fold, held in place magnetically, shuts the case.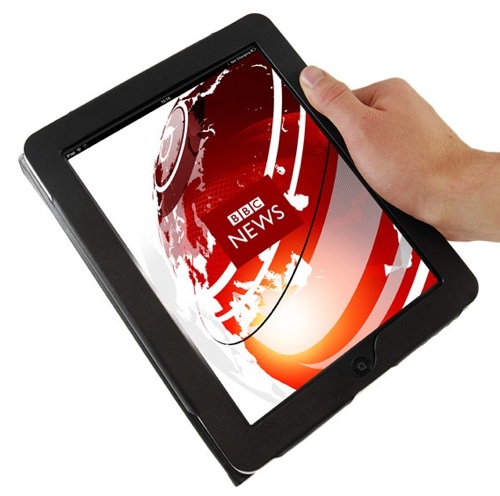 It's less comfortable to use the iPad in tablet fashion when it's in the case
All in all, the Folio has a nice design, and while having the keyboard in there inevitably makes this case thicker than many others, there's not actually a lot in it. It's very comfortable to carry.
Sponsored: Minds Mastering Machines - Call for papers now open