Enslaved: Odyssey to the West
Monkey Tragic
Rushed to market
Worse still, the game's most memorable sections are often completely unplayable. In the same way narrative tells rather than shows, cutscenes often replace gameplay, as Monkey rides on the roof of a van, careering and bouncing through gunfire, or as Pigsy drives a gigantic mech into battle.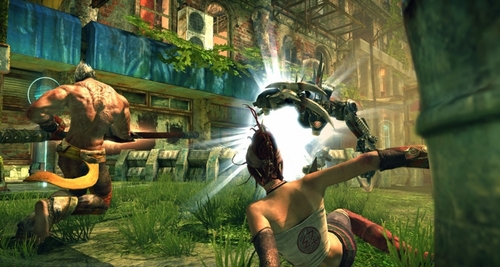 Lightly does it
Even the often drop-dead gorgeous visuals fail to save Enslaved. The epic grandeur of the post-apocalyptic wasteland has a unique vibrancy, courtesy of the primary colours of its cartoon-esque palette, made especially beautiful by the foliage grown over the traces of man. But the PS3 version is plagued with a woeful frame-rate and during both play and cutscenes, and horrendous screen tearing and anti-aliasing, which would suggest the PS3 version was rushed to market.
Verdict
As an exercise in pushing storytelling within videogames, Enslaved merely highlights just how much the medium still needs to mature. The voice acting deserves critical acclaim, Andy Serkis in particular proving videogames deserve greater consideration than most non-gaming critics presently afford it.
Had Enslaved achieved its ambitions, instead of failing to match even the current best exponents, it would still have been in vain, thanks to its utterly uninspired and banal gameplay. ®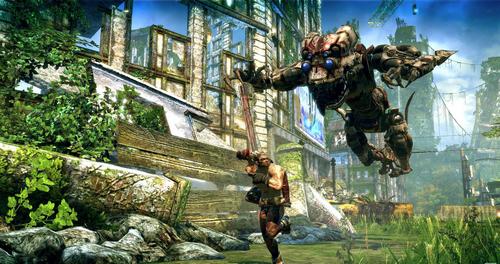 The frog-like hovercraft croak down and had to be toad
More Games Reviews

Castlevania:
Lord of Shadows
F1 2010
Dead Rising 2
RUSE
Sponsored: Minds Mastering Machines - Call for papers now open

Enslaved: Odyssey to the West
A game whose focus on furthering videogame narrative comes at the expense of gameplay and enjoyability. Available on PS3 (tested) and Xbox 360.