Acer gets netbook Happy
Pastel colours to 'fill your life with excitement and joy'. Oh dear
Christmas approaches, and Acer is ready with a set of kid-friendly pastel-hued netbooks ready for parents to lay down 250 notes on.
The machine is the Aspire One Happy, and it's a standard Windows 7-based netbook - with one exception: it also comes with Android 2.1 as a fast-boot, quick-acccess-to-the-web operating system.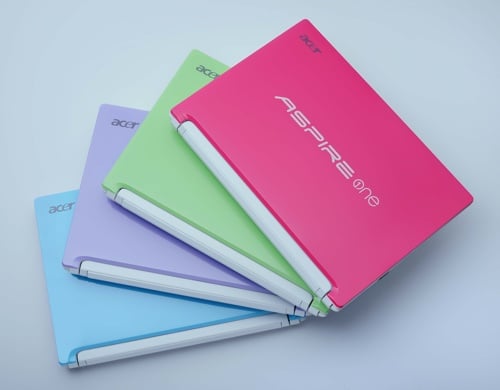 The Happy comes in "four delightful colours that fill your life with excitement and joy" - no, we didn't make that quote up. Said shades are "Candy Pink, Lavender Purple, Lime Green and Hawaii Blue" and they "transform this netbook into a fashion statement".
So maybe not just for kids but for ladies who lunch too.
There's a choice of Intel Atom N550 dual-core or single-core 450 processor - the latter is the one in the £250 model - plus 2GB of memory, 250GB of hard drive storage and Wi-Fi. Bluetooth and 3G are optional extras.
The Aspire One Happy is available now. ®
COMMENTS
And when I said "I like the look of this"...
...I was of course referring to the hardware specs, and not so much the pastel shades they're wrapped in - couldn't they provide the usual black, silver and white too?
A Linux "double-header"...
I like the look of this machine, though I had a funny thought just after my usual reflexive reaction to news of a netbook with Windows 7 (i.e. "wiping the drive and sticking Ubuntu Maverick on it would be Job One"): doing so on the Happy, would leave me with a machine running two Linux-based OSes.
I mean, I'm a fan of The Penguin in general, but the irony would not be lost on me...