One For All SV9380 Freeview HD indoor aerial
Well received?
Interference, often the bane of my gadget-infested living room, is addressed by what One For All calls SignalClear technology. Triple interference filters offer 10 stages of filtering to reject unwanted signals, such as DECT phones, mobile phones, wireless devices and other sources. This helps avoid overload and picture freeze. Also, a low noise microcontroller is used to amplify terrestrial signals up to 42dB.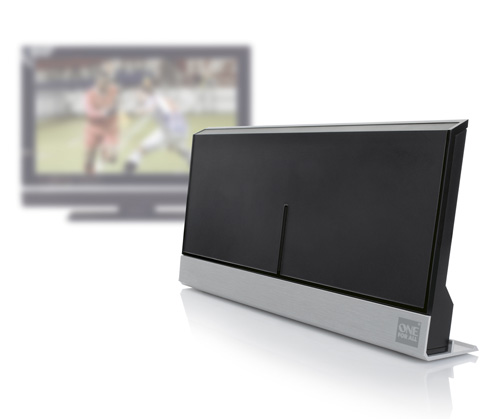 Well-equipped for the challenge of indoor reception
My 11th floor flat has line of sight of Crystal Palace's transmitter, but the SV9380 is the first indoor aerial I've used – and I've tried a good half dozen – that can cope with my building's steel frame structure and the plethora of interference-generating kit, such as an Apple AirPort Extreme base station, BT Home Hub, Sky+ and other home entertainment paraphernalia.
Positioning it in an east-west axis on my windowsill every Freeview channel was picked up with nearly maximum signal strength and quality, including all three HD channels. Simply rotating the aerial by 90 degrees and the signal strength dropped. When the aerial was moved behind a wall, only a few channels were picked up, somewhat in line with expectations for this environment.
I also tested the aerial at a house in Essex with known patchy reception. It did require more precise positioning (and a power extension lead) but the SV9380 picked up all the Freeview standard def channels and most were stable most of the time. A handful of channels suffered with some picture-freezing and drop-outs, possibly due to lower signal strength on certain frequencies, also not helped by the fact that trees were in leaf.
No portable aerial can do anything with a really poor signal but some are better than others with medium to weak signals. From my experience, the SV9380 outperformed all other indoor aerials including the Philex 27770R, which is a pretty decent model. Even so there is no guarantee that it will work for you, as every situation is different, with several variables coming in to play. Indeed, for some, only a rooftop aerial will suffice.
Verdict
As indoor aerials go, the SV9380 is a cut above most of what's on offer. Solidly built, stylish even, and technologically equipped to deliver Freeview HD, often against the odds. If your TV reception is marginal then the SV9380 may just make the difference between being able to pick up and watch your favourite shows and facing a blank or frozen screen. ®
More Gadget Reviews…

Panasonic
TY-CC10W TV webcam
Keene
USB FM Transmitter
Ten Essential
Wireless Headphones
Etón Soulra
solar-powered iPod dock

One For All SV9380 Freeview HD indoor aerial
A stylish wideband aerial that aims to take the pain out of aerial upgrade issues with the digital switchover.