Cisco Flip Mino HD 8GB video camera
Image stabilisation, at last
Made for sharing
Plumbed into a computer, the Mino HD's 8GB storage appears like a normal USB flash drive. Video clips can be dragged off for copying, however, all Flip Video camcorders are pre-loaded with FlipShare software for Mac and PC that enables easy copying, organising and editing. As there's no still photo option on the camera, FlipShare will take frame from video instead.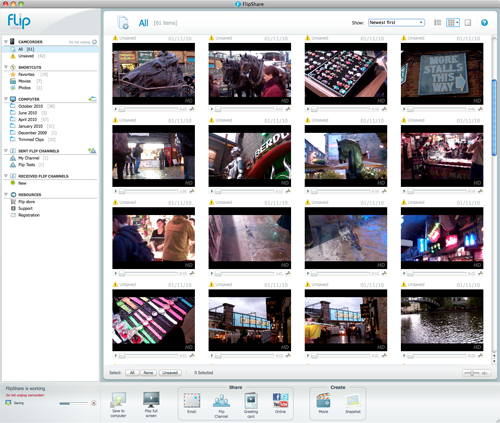 You can select the video you wish to import from thumbnails images in FlipShare
Click for a larger image
With social networking at its heart, FlipShare also offers seamless uploading to Facebook Video, Twitter, YouTube and other video sharing sites. This runs on both Macs and PCs and provides very basic editing features for trimming video clips and uploading them to sites such as YouTube. It's no Final Cut Express or even iMovie, but it still delivers as far as Facebooking is concerned.
FlipShare is worth getting familiar with though, as it will import other video clips and, if you've copied off Flip files without using the application, they can be added using the Recover other FlipShare files option from the Help menu.
There's also the Flip Channel on-line sharing service that seems to be Cisco's take on YouTube or Vimeo for its camera users. You create different content channels to effectively build up an on-line library. You can then share files directly (that stream from the site's servers) or upload the content you have there to Facebook, YouTube and the like.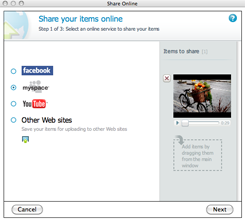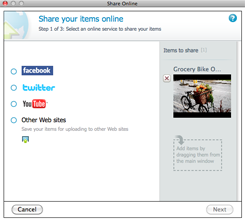 With the new FlipShare 5.8 (right), MySpace is now Twitter's space
A neat touch is the free FlipShare iPhone app that can stream the content on the Flip Channel. It all works and suggests that the FlipShare software could mature into something quite useful, it's just hampered by its oversimplification in some areas. For example, drag and drop is used to construct a final movie edit sequence, and requires starting all over again if you want to change the order of clips once you've exported the movie.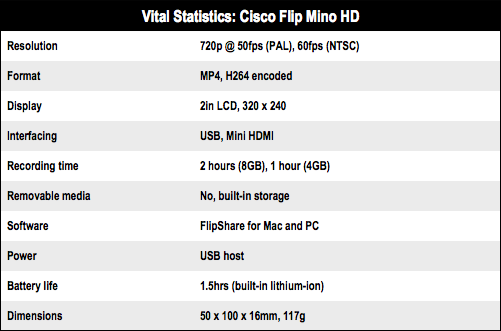 Sponsored: Minds Mastering Machines - Call for papers now open