Cisco Flip Mino HD 8GB video camera
Image stabilisation, at last
Sunburn?
For a point and shoot camera, the image quality turns out to be surprisingly good – just about sharp enough to live up to the HD tag, and with bold, strong colours. However, in strong sunlight colours could appear washed-out and some detail burnt out too. In fact, up against the same style Mino HD (but lacking the image stabilisation and increased frame rate), the new version seems even more prone to over-exposure, yet the contrast appears less harsh, so there is more detail in the shadows, but the edges aren't so crisp.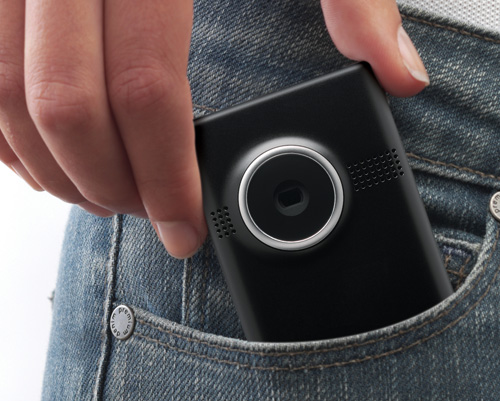 Pocket-friendly and comes with a draw-string pouch too
Certainly, you can perceive somewhat smoother shooting thanks to both the faster frame rate and image stabilisation. Cisco describes the latter as "Digital with hardware sensors…" The rest of the explanation is a bit of a blur. "With the mechanical gyro sensor we don't lose the quality that digital typically implies, since we have a sensor that shifts the frame to centre the objects and reduce shaking." Well, it seems to work.
Even so, with its candybar phone size and light weight, the Flip Mino HD is very susceptible to every little move of your hands, and while the results seem more steady now, given the on-the-go nature of the camera, shake is something to expect. Still, if you really need it, there's a tripod mount at the base, adjacent to the mini HDMI port.
The fixed-focus lens works between 0.8m to infinity (and beyond), and even clips shot within a range of 2 feet were acceptable. Yet used in low light conditions, the results were rather patchy. They don't look bad on the small display but blown up on a computer screen, the recordings do exhibit a fair amount noise and some colour smearing, exacerbated when using the 2x digital zoom. Still, the Mino HD does well to capture reasonably well-defined footage in difficult conditions, and just about every time gives you something useable, so long as you're not too fussy.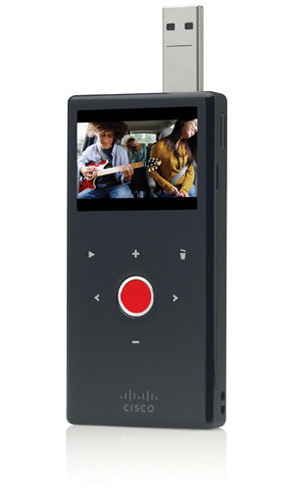 USB connectivity flips up for video transfers and the device will charge from its host
The Mino HD has a built-in USB connector that, er, flips up from the top – by sliding a switch on the side – and simply folds away again when not required. Dispensing with the need to carry USB cable when travelling, the Flip doesn't need a separate charger either. Hook it up to a Mac or PC and it starts charging – with a full recharge taking about 3 hours. The internal lithium-ion battery lasts for about 1.5 hours on a good day, but is non-interchangeable.
Sponsored: Minds Mastering Machines - Call for papers now open