Apple patent pic revives touchscreen Mac buzz
To touch or not to touch
Just days after rumors of an impending touchscreen iMac were put to rest, a US patent application has been published that revives them once again — but with a twist.
The patent filing in question, "Integrated Touch Sensitive Display Gate Driver", describes a display system that can be switched between touchscreen and traditional display mode.
As the filing's title suggests, the application focuses on gate driver circuitry, and describes a system for allowing the gate driver to switch between touch and display modes. "Because display and touch capabilities can impose different requirements on the touch screen," the filing reads, "it can be challenging to mesh those requirements so that the touch screen can perform both display and touch capabilities effectively and efficiently."
Although the filing, at 42 pages, is unusally long for this class of application, it has at its core a relatively straightforward concept: the gate driver it describes can transmit LCD signals or receive touch-control signals by switching between those functions on the same signal path.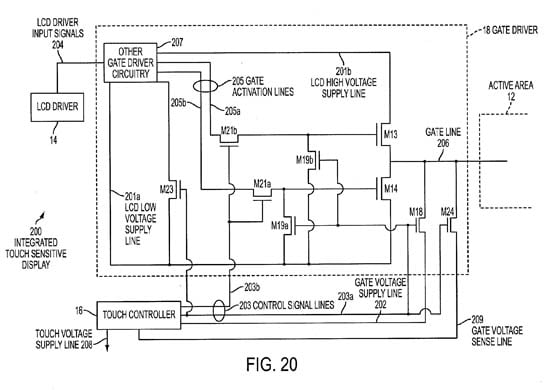 This 'exemplary' gate driver can switch between voltage supplies
The concept may be straightforward, but its implementations — or, in patentese, its embodiments — described in the filing require an EE-level understanding to fully grok.
What's clear to even the non-engineer, however, is that this filing is one more proof that Apple sees touchscreen control as central to its vision of the future — in this case by employing a gate-driver design that can "advantageously integrate display and touch circuitry in a more efficient effective manner, thereby realizing cost and power savings."
An "efficient effective" integration of standard and touchscreen displays that would be both cheap and power-miserly would help make the touchscreen iMac rumored to be in the works early this year more likely.
But after that rumor resurfaced, bolstered by an earlier patent that described a nifty tilt-and-slide base for a just such a touchscreen iMac, it was quickly snuffed by the company said to be providing Apple with display samples.
Today's filing, however, includes as its final illustration the following bit of rumor-restart temptation: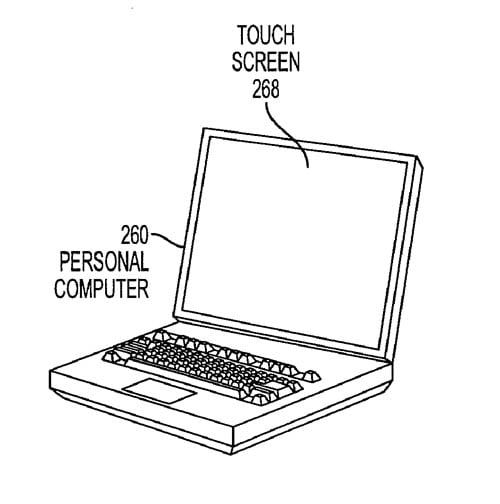 This may not be an iMac, but that laptop's display is most definitely labeled "Touch Screen"
First came the iPhone, then the iPod touch, then the iPad. Those three are all iOS devices, to be sure — but the earlier touchscreen iMac patent and today's filing make it clear that Apple is mulling over the possibility of a touchy future for its Mac line, as well. ®
Bootnote
Interestingly, this patent application doesn't list a person or company as its Assignee, as do the majority of such documents. It does, however, instruct that correspondence concerning the filing should be sent to "APPLE c/o MOFO LA", and the address given is that of the Los Angeles office of international mega–law firm Morrison & Foerster LLP, aka MoFo. No, not that MoFo — though some may argue an equivalence.
Sponsored: Minds Mastering Machines - Call for papers now open