Panasonic TY-CC10W Skype camera
Video conferencing for couch potatoes
Picture this
Call quality, and picture quality were both good in tests, though as ever, things can be variable with Skype. Other people had no difficulty seeing or hearing me, even with the camera around eight feet away, though they did report a little echo when they spoke, similar to being on a speaker phone. In theory, the camera's capable of full screen 720p video, but only when connecting to another Panasonic TV; Skype PC users get lower quality video.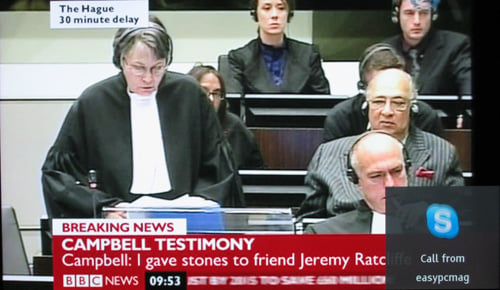 Skype will listen for calls while you're watching TV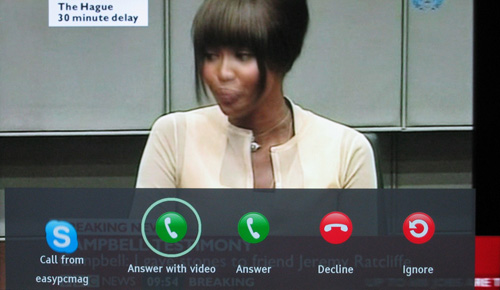 Incoming calls can be dismissed while you're watching TV
Fortunately, you don't have to remain in VieraCast to make use of Skype; once configured, a pop-up will appear on-screen while you're watching TV, alerting you to an incoming call. You can easily answer, ignore, or reject it. One niggle I did find, however, was that sometimes after using Skype, and returning to the Freesat tuner, the TV would display an 'invalid channel' message, rather than going back to the programme I'd been watching.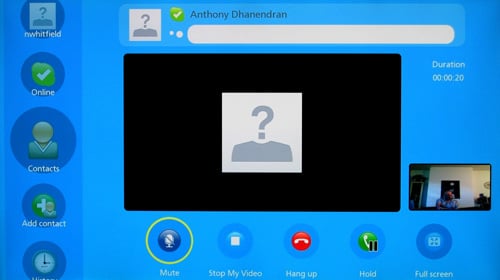 The menus will be familar to most Skype users, and are easy to navigate from the remote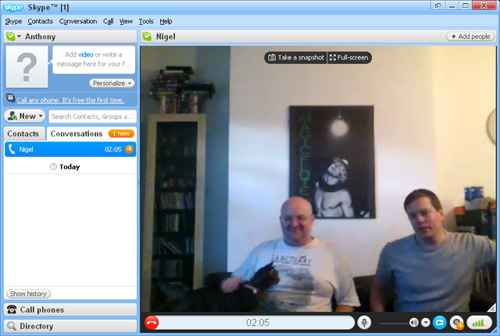 The view from the other side: Orwell's telescreen is still work in progress
More seriously, Skype for TV thoroughly trashes any 'it just works' ideas you might have about Skype. With both this Panasonic camera and the Samsung equivalents, you can talk to other TV users, or to PC users with Skype 4.x. However, video calling to Mac, Linux or Asus Skype videophone gear doesn't work.
Sponsored: Minds Mastering Machines - Call for papers now open