Cisco jump-starts home 'telepresence'
HD video calls made consumer friendly
Cisco has announced a "tranformational" consumer-level videoconferencing system that it calls Cisco ūmi telepresence.
"Ūmi telepresence is about you and me connecting in new ways, right in your living room," Cisco's emerging technologies group headman Martin De Beer told his audience of press and analysts at the system's roll-out Wednesday in San Francisco.
And yes, that's "ūmi", not "umi" — and we'll see how long that macron will survive.
The ūmi telepresence set-up consists of a settop box, a panning-and-zooming 1080p camera and microphone unit that sits on top of your HDTV, and a simple IR remote (which can also control panning and zooming). You supply the HDTV and the broadband connection. And the living room. The setup runs $599, and the required service is another $24.99 per month for unlimited video calls.

The ūmi telepresence hardware: settop box, camera and microphone unit, and remote
The ūmi effort is an outgrowth of Cisco's four years of experience in the enterprise videoconferencing telepresence market. "We've had lots of success [in the enterprise]," De Beer said. "We now have more than 20,000 customers that use our systems on a daily basis. In fact, more than a million people use our systems on an everyday basis."
But despite that track record, ūmi telepresence is quite different from Cisco's enterpise offerings, De Beer insisted. "This experience that we've created is very specific to the consumer itself," he said. "It is different, it is a new class of product, and you will see that the experience is transformational.'
How transformational? Ūmi is übertransformational, from De Beer's point of view? "Very, very soon you are going to see us virtualize services into the home — just like e-commerce virtualized with the advent of the browser — in ways that will enable the delivery of healthcare, education, government services," he said.
De Beer sees ūmi telepresence — and, of course, its follow-ons and imitators — as turning users into all-consuming couch potatoes. "Think of customer service right into your living room," he said. "So you don't have to drive down the street to meet with your doctor, accountant, lawyer, or tutor. You can hire them from wherever they are — that French tutor may in fact be living in Paris — and bring them into your home, to consume those services."
De Beer's comments, however, perhaps unintentionally exposed a flaw in the system. When speaking of how to "build trust and emotional connections long-distance," he said that Cisco's experience in business telepresence had taught the company that "if you don't have that full HD, 1080p experience in life-size, full immersion, you can't see the expression in someone's eyes to build trust and build a relationship — and the same will be true even more so with this solution into the home."
Problem. To achieve full 1080p performance, ūmi telepresence requires a 3.5Mbps broadband connection both up and down. If your connection is 1.5Mbps up and down, you'll get 720p video. At lower rates the system will drop back to 480p.
This bandwidth hunger is undoubtedly one reason that Cisco will be partnering with Verizon in early 2011 to install ūmi telepresence systems in the homes of customers who subscribe to Verizon's all-optical FIOS network.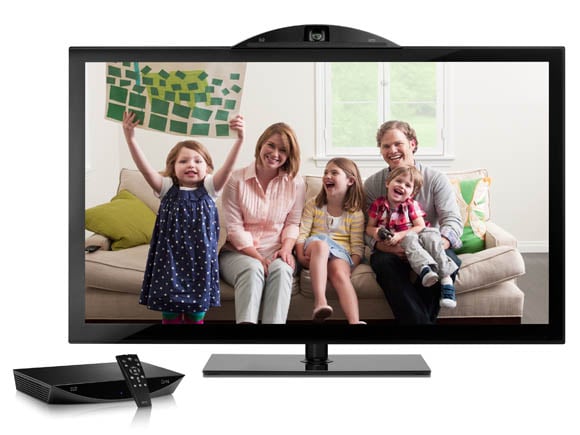 Presumably, Cisco's happy telepresencing family has a robust broadband connection
In addition to simply making video calls using a straightforward, consumer-friendly interface, the ūmi telepresence system can be used to record videos, then email them or upload them to Cisco's flipshare, Facebook, or YouTube.
Although the full "transformational" experience would be ūmi-to-ūmi, video calls can also be made to and from webcam-equipped PCs or Macs using Google video chat. A video-message capability is also included, complete with — as is to be expected — personalized "I'm not here, leave a message" videos. Messages can be checked when away from home using a browser-based service, and text notifications of messages can be sent to your smartphone.
It remains to be seen, of course, whether ūmi telepresence can attract enough users to give it the critical mass it needs to achieve "tranformational" status. But Cisco has promised a serious marketing push to get its ūmessage to the masses.
"It's like chocolate," De Beer said. "If you haven't seen it, if you haven't experienced it, it's just so tough for me to tell you what it's like — you've got to taste it yourself."
And so Cisco will launch a mall tour that'll offer ūmi taste tests at over 20 US malls beginning November 10 — the system, by the way, will ship on November 14, and pre-orders are available now. The system will be sold at Best Buy's Magnolia Home Theater stores, where curious customers will presumably also be able to get a tasty nibble.
In addition, the ūmi telepresence system will be used to bring remote guests onto the final season of The Oprah Winfrey Show, and promoted in a series of commercials starring cute-as-a-button actress Ellen Page.
As we all learned from The Jetsons, consumer-level video teleconferencing is a well-nigh inevitable feature of our shared future in the digital wonderland. Whether the Cisco ūmi telepresence system will usher in that transformational transformation remains to be seen.
But with its networking skills and deep marketing pockets, Cisco is in a good position to grease the skids. All that ūmi telepresence needs — besides that aforementioned critical mass of early adopters — is a killer app that'll make it a must-have device.
Hmm... Let's see... What usage model jump-started, say, the home-video revolution and launched a thousand profitable websites?
Yup. That's the one we're thinking of. ®
COMMENTS
Really?
1. You cannot do 100% reliable whatever over whatever. Such a thing does not exist. Even phone is about 99.9%. The telco voice people love saying 99.95, but that is only the reliability of you hearing a dial tone, not the reliability of placing a call and successfully completing it. And I am not even going to get into the reliability of mobile.
2. VOIP with no network support and only with QoS/Policying on the customer router works perfectly fine in the UK. I have on average a fraction of a second per several hours of call lost to "skips" which is considerably better than mobile (I can get detailed stats off my PBX, just too lazy at the mo). This is on O2 Broadband at present. I have gone through 4 ISPs since I put the first VOIP PBX at my house in 2002, it worked on all. The skips/gaps are slightly more on several other well known ISPs which claim to be cheaper, but you buy what you pay for. In any case, it is simply a matter of knowing how to run it (by the way, most telcos and ISPs do not).
3. You will be surprised how little HD video actually eats. As a part of my day job in a UK Telco I had to hack a quick-n-ugly HD video conf setup for network testing this year. We did not get any vendor kit so I rewrote portions of asterisk, ekiga and integrated IR remotes to it. The result was very similar to what Cisco is showing here and it was all done using consumer kit which one can go and buy from Dabs and Amazon (HP desktop, Nvidia video, Logitech camera and XP MCE remote). The startling thing was that with a modern codec (not the low compression ones like 261 or 263 usually present on vendor kit), on 720p we could not push the bandwidth beyond more than 2-3Mb for a video conf. Our aim was to have a real app to load the network with 8M. HD video conf done _PROPERLY_ with a modern codec simply was not doing it. It was refusing to eat the bandwidth. In a video conf setup you got people sitting in front of each screen and there is very little motion. There is also a fairly large static background and no movie-style panning/zooming. As a result even less efficient codecs like theora can compress the hell out of the stream. In fact if you drop 720 to 25fps and configure it to do some frame weaning you can fit in 1MBit. That is something you can run on most DSL2+ networks in the UK as long as you have a VOIP PBX with video support in the network and both sides support a modern high compression codec - Theora, MPEG or H264.
As the saying goes: Always listen to experts. They'll tell you what can't be done, and why. Then do it.
Utterly out-of-touch, incompetent management - CSCO: Sell
Seriously: WTF are these lunatics are smoking? 2x $600 box + $25/mo for getting rid of two Skype-capable devices which work FREE?
FYI clueless CSCO management: I've used D-Link's DVC-1000 then i2eye from 2003-2004 for years across continents FOR FREE. Yes, FREE - and the box was only ~$100 if I remember correctly and guess what? Even my retired parents decided to switch to a laptop and use Skype...
...did I mention video calling is an everyday feature on overseas mobile networks overseas for years - and it seems finally US might catch up in 2011 with 2005's European and Asian GSM networks, offering video calls soooo great planning, CSCO, great effin' planning, dumbos.
A Jetsons future
One aspect of video-telephony tech for the home that never seems to be mentioned by anyone is the housekeeping problem. You wouldn't want to set this up in a room you actually use for normal living - unless your particular OCD happens to be "compulsive neatnick". As for the rest of us, most of the time the place would be too cluttered to answer incoming calls. To avoid panic attacks when the TP system rings, you'd want to install it in a separate room, one which is normally kept closed off when not in use - a museum quality room, if you will. Think about it it, do you really want anyone who calls to find out how you really live?
Yeah. I thought so.
OTOH, there's an upside, at least here in the US, where every broadband provider does asymmetrical provisioning, with downlink speeds ranging anywhere from 2 mbits/sec to 10 mbits/sec or more, but never more than 768 kbits/sec on the uplink, with most services unwilling to provide more than 512 kbits/sec., unless you're willing to buy their "business class service" at at least double the price.
It would seem higher speed home service uplink services from Verizon would put a bit of pressure on some of the other providers, notably cable cos. like Comcast and TWC which already have the "last mile" infrastructure in place to handle much higher uplink speeds than they provide today. Verizon continues to catch up though with an ongoing build out of its own fibre network to the home.
Cisco might be wise to exert some effort on some of these other providers. I'm not convinced the cable cos. are entirely awake to the fact that today's relatively slow broadband uplink speeds are actually a choke point for development and adoption of new services.
Competition for LifeSize
I see this more as a competitor to LifeSize's Passport, which does only $720p and currently goes for $2k, but can do Skype video calls as well as H.323/SIP, is smaller, and doesn't require you to pay a pizzo. Either way, people aren't going to pay for HD video calls when free webcam video calls are "good enough," same as how MP3s, pirated DVDs, fast food, and Coors Light are "good enough."
Consumers?
If they think consumers will pay $599 and then $25/month for this they're smoking something illegal. I can see a market in SOHO (small offices and home offices) but consumers aren't going to buy into that. If it's $99 and then pay per use it could take off. At those prices, it's a small business thing but not consumer. Who's going to buy this when they can just use FaceTime on their iPhone?