Sony Ericsson Zylo
A Walkman phone by any other name
Jack in the box?
This made me wonder if the Zylo is genuinely is an attempt to reinvigorate the Walkman phone brand or an old design idea dusted off and pushed blinking into the light of day. Something else that made me think that is the shocking absence of a 3.5mm headphones jack. Worse still you don't even get a FastPort-3.5mm adapter and the bundled earphones are pretty low rent.

Surely some mistake? No 3.5mm headphone jack on a music phone?
The sound they make isn't actually bad but they are the traditional earbud design not the noise isolating inner ear type Sony bundles with most of it's current Walkman MP3 players. Having decided to use the FastPort for audio, Sony Ericsson should, at least, have chucked in a pair of its rather fine noise cancelling HPM-88s to mitigate the damage.
As well as the expected MP3, AAC and WMA formats, the Zylo will also play Flac audio files, which is the feature presumably meant to make it stand out from the crowd. Personally, I would have liked support for Ogg Vorbis too. After all if you are going to include Flac why not go the whole hog and cater for all the popular music codecs?
Actually Flac support isn't what makes the Zylo stand out from the crowd. What does is the sound quality no matter what the file format, though I should point this is a conclusion I reached using my usual Sennheiser earphones and an adapter I happened to have lying about.
In a nutshell the Zylo is a very fine little music player. The sound it makes isn't as impressive as the Sony A845 Walkman I looked at recently, but it's one of the best phones for the job with plenty of warmth and bass and excellent definition.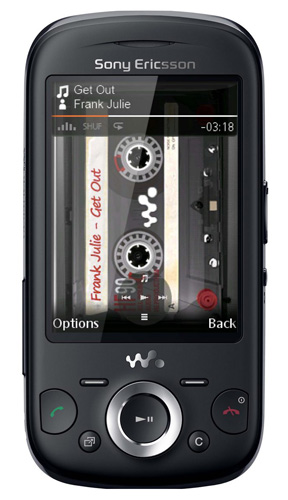 Reelin' in the years?
Usefully content and playlists can be imported to the Zylo via an MTP media player though its a shame you can't also use Sony's handy little Walkman iTunes Content Transfer app. The Walkman app comes with several skins including a reel-to-reel tape player, compact cassette and LP deck. These are purely for show but they do have some clever touches. Choose the cassette theme and the spools turn and the track information appears hand written on the content strip.
Sponsored: Minds Mastering Machines - Call for papers now open