Inked in
Despite the reduction in overall size the new Kindle still houses a 6in E-Ink screen but it's the new improved Pearl variant. Contrast has been increased, apparently by 50 per cent, while the fonts have been re-jigged to make them more crisp and now include a sans-serif option.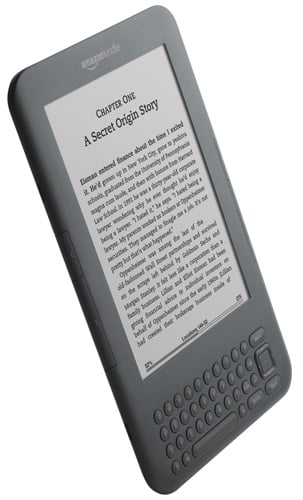 Page turns are around 20 per cent faster
The result is a screen that is certainly more pleasurable to look at and makes the Kindle the most readable device of its type on the market today, though I've yet to try the new Pearl-equipped Sony ebook readers. Amazon also reckons that pages now turn 20 per cent faster than before, but I think it may be underselling itself on that front, as page turns seem even faster to my eye.
Storage has been doubled from the old device's 2GB to 4GB, which means, like the Kindle DX, you have 3.3GB available for your library. You still don't get any sort of memory card expansion but frankly, 3GB should be enough for most people - that's well over 900 AZW copies of The Lord of the Rings – and you can store all or some of your purchased library on Amazon's servers.
The on-board content library can now be organised so you can group your books together as you wish. It's a handy feature that I can't recall being present in the previous Kindles I've tested. A welcome new feature is the "experimental" Webkit browser. Obviously, you can only browse in black and white and it doesn't support Flash but, for a little light browsing, it is more than adequate. More importantly, it works outside the USA, which the old Kindle browser didn't.

Pencil thin
The e-book format support hasn't changed which means the Kindle will only handle Amazon's own AZW format along with DRM-free Mobipocket and PDF files. As most good e-book websites such as Feedbooks cater for Mobipocket, the continued lack of ePub support is something you have to learn to live with or shop elsewhere. PDF support claims to have been improved but that just means it will now handles password protected files and the pan/zoom feature has been improved. PDF files still don't reflow.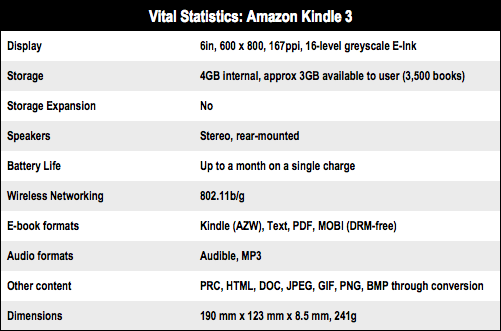 COMMENTS
In my opinion the 3G one is clearly the better option
If the Kindle weren't available when 3G then I wouldn't have bought one. True, wireless hotspots are not too hard to find but if you're in a hotel that requires you to connect to the network then open your browser to authenticate then you're out of luck as the Kindle can't do that.
I'm a frequent business traveller so I like the way I can get my daily newspaper 'delivered' every morning no matter where in the world I am without having the mess about finding a wireless hotspot. Turn the Kindle on and within a minute or two there's my newspaper.
Even if I weren't a frequent traveller I'd still have goen for the 3G version if only to get around the annoyance of being on holiday, finishing all your books and wanting something else to read. A couple of weeks ago I was in Munich (oh how I love the Oktoberfest) and while waiting for my flight back to Heathrow I finished my last book so without any hassle I went on the Kindle store from my Kindle and downloaded a book.
Global 3G is one of the main differentiators for me between this and other eBook readers.
My only gripe is that the directional keypad has a thin border on it so with my fat fingers I often push the central button when trying to push a directional button. A minor annoyance to what is otherwise an excellent device.
To be fair...
anyone reading a book in a dark room would have the same problem.
Swings and Roundabouts
Well, it's nice to see that the price of the Kindle has dropped, but I was shocked to see that prices of eBooks at Amazon are now mostly higher than their paperback (and often hardback) equivalents.
Of course, the olde Gutenberg-sourced eBooks are available for free, but is there really any excuse for delivering books electronically at a higher price than the paper versions? Apart from attempting to preserve the dead-tree-based business model?
Compatibility
Of course, you use something like Calibre to convert file types, and Amazon handily will convert all sorts of PDF and doc files into Kindle-ized documents, within minutes of you sending them an email.
The 3g version is probably worth it if you're the kind of person who would like to check the web on the way to work, rather than youtube - which isnt compatible. I find the guardian mobile sites, and my Uni course webpages display with perfect functionality.
The 3g also is useful for looking up further info, and as someone who lives and works and commutes in places that have no hotspots, it's a godsend. It's FREE INTERNET! (albeit B&W Internet).
But yeah, awesome, isn't it?
Price and the format are critical
People don't like format wars, and ebooks are the mother of all format wars. Seriously we've been subjected to 10 years of this shit where dozens of proprietary ereaders & apps have sprung up for PCs & devices. Each platform of course heavily favours one particular proprietary format, usually ties the format to a store and ignores or pays lip service to other non DRM formats.
The consequence of all this fighting is the ebook market place is a wasteland of failed services and cliques busy building little alliances and fiefdoms. No one seems to want to take their head out of their asses to question what would happen if they worked together on a single DRM and format, and stopped engaging in predatory / cartel like price fixing.
If the industry were to unite around a single open format and sell their books at a fair price and a fair & competitive basis from various online vendors then sales of ebooks would increase ten fold. Everyone would benefit. I am surprised publishers are letting Amazon get away with things so far. Don't they remember what happened to the recording industry and Apple? The publishing industry should be mandating a level playing field for their own independence and long term viability.
The laughable part is the only people unaffected by this infighting and warring are the pirates who can scan a book, proof it and have it out within hours of general release. The general public are the victims here, either by buying into a proprietary anticompetitive service, or by sitting on the sidelines until the war ends. And there is no sign of that happening any time soon.