Amazon Kindle 3 e-book reader
Mobile library downsized and overhauled
Review Even a blind man in a dark room can see what the problem is with eBook readers has been – the cost. Every eBook reader review Reg Hardware has run has been followed by dozens of comments all along the lines of: Nice idea, but how much?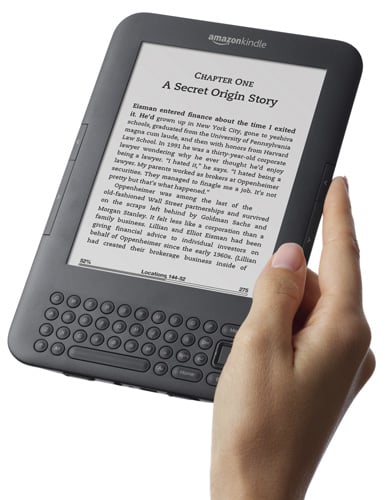 Amazon's Kindle 3: e-book gets new cover
Now Amazon has bitten the bullet and released a new third-generation Kindle eBook reader with the altogether more realistic price of £109 for the Wi-Fi only model and £149 for the Wi-Fi & 3G version which comes with free cellular connectivity. That compares to £207 for the earlier model reviewed here.
Of the two devices it's the cheaper Wi-Fi only version on review here and, in my opinion, it's clearly the one to get. Surely, even the most avid reader doesn't get consumed by the burning urge to buy literature so suddenly that they need a cellular link, and it's not as if hotspots are that hard to find these days.
Get the Kindle 3 in your hand and it soon becomes obvious that, in one sense, you are actually getting rather less for your money. At 190 x 123 x 8.5mm and weighing 241g the new model is 21 per cent smaller and 17 per cent lighter than the Kindle 2, and feels it.
The controls have been subtly modified to accommodate the new smaller format. The page turn keys on either side of the device are now much thinner, though still easy enough to use. The old joystick has been replaced by a decent little navigation pad that, along with the menu key, has migrated down the device to form part of the keyboard layout.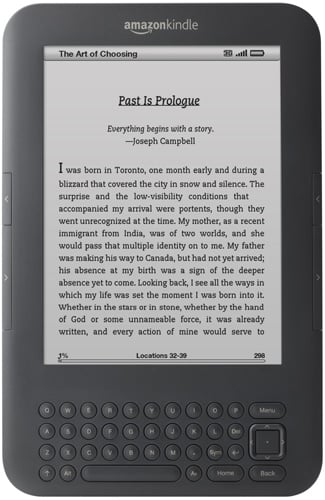 Slight modifications to controls to suit the new size
As well as the traditional white casing, the new device is now available in graphite and seems all the better for it. The back is also now textured and slightly soft-to-the-touch, another small but significant change that makes the new version more pleasant to hold for prolonged periods.
Sponsored: Minds Mastering Machines - Call for papers now open