Samsung Galaxy Apollo Android smartphone
Handy social behaviour?
And the really clever lock screen which puts incoming messages into a puzzle piece and lets you go to them by pushing the piece into a slot in the background image has been seen before too, again on the Wave.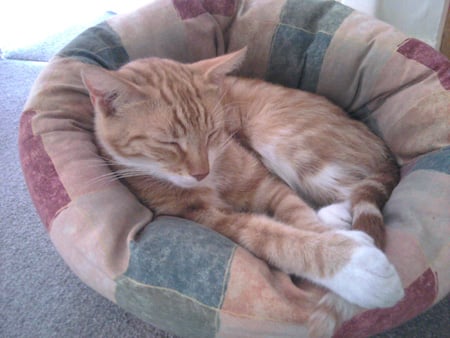 Slow autofocus, but can be a reasonable snapper if you take your time
Click for a full-resolution image
TouchWiz 3 makes another appearance, allowing you to populate Android 2.1's five home screens with widgets, and on the review sample from Orange, which had an exclusive on this handset until recently, the cellco had added its own Orange Maps service to the free Google Maps.
The Samsung Galaxy Apollo is a relatively small handset (113mm x 55mm x 12.55mm) with a 3.2in 240 x 400 pixel touchscreen. The screen looks a little blurred at that resolution. At least it is capacitive, and supports pinch to zoom, which is a boon when Web browsing in the small space, but there's no text reflowing so reading Web content can be a scrollathon.
The handset features Wi-Fi and 3.6Mbps HSDPA and A-GPS. It also supports Divx playback for resolutions up to 720 x 480. Yet for those with a mobile movie habit, Orange's web site suggests memory card expansion "up to 1GB" for its i5801 Galaxy Apollo, which, if it were true, would considerably curtail the multimedia viewing experience. By contrast, Samsung's i5800 Galaxy Apollo page suggests expansion up 32GB.
The camera has no side button for quick launch or flash to assist with indoor shooting. It shoots stills at 3 megapixels, with the video camera topping out at 320 x 240. The autofocus takes a while to kick in too so images can appear blurry if you're too quick off the mark.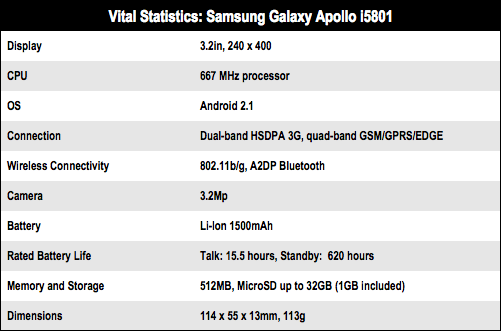 Sponsored: Minds Mastering Machines - Call for papers now open