Cisco buffs Borderless Networks brand gear
VMware virty server stuffed into routers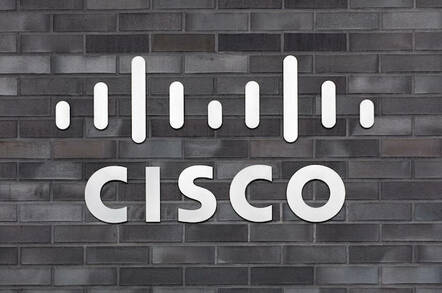 Cisco's Borderless Networks launch on Tuesday put new switches, routers, and access point hardware into the field, as well as adding some interesting virtual x64 server software capabilities to existing routers, along with a smattering of other software and services.
It's another one of those announcement days at the networking giant when a slew of somewhat interrelated and sometimes totally unconnected products are wrapped up with a Borderless Networks banner and rolled out the door.
The big new piece of hardware is a midrange Catalyst modular switch, the 4500-E, and with an aggregate of 848 Gb/sec of aggregate bandwidth, it has twice the oomph of the switch it replaces in the Cisco lineup.
Perhaps more importantly for voice over IP (VoIP) and other uses where devices draw their power from the switch, the Catalyst 4500-E sports juicy Ethernet ports — the so-called Power over Ethernet Plus, which allows up to 30 watts to be drawn from the switch to power remote devices such as IP telephone handsets. The Catalyst 4500-E switch can deliver 240 ports at 30 watts and the remaining ports at a lower power-consumption level, for a total of 384 PoEP ports.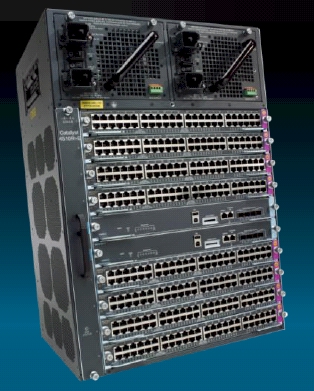 Cisco's power-full Catalyst 4500E modular switch
The modular chassis has eight Gigabit Ethernet modules and four uplinks. If you want to use SFP ports, you can only get 200 Gigabit Ethernet ports on the box, and if you want to use 10 Gigabit Ethernet ports, you can get 100 SFP+ ports.
The chassis sports a new Supervisor 7-E engine and runs Cisco's IOS-XE operating system. The prior Supervisor 6-E engine topped out at 320Gb/s of bandwidth and supported far fewer Ethernet SFP and 10GE SFP+ ports. Prices start at $27,480 and Cisco actually started shipping the device in September.
The Catalyst family of modular switches received a tweak of its EnergyWise power control feature on Tuesday as well. For a few years, the Catalyst switches have been able to sniff Ethernet ports and see if a device is dormant or not, and if network administrators give the switch permission over devices drawing power from the switch, the EnergyWise software can power down such devices when they are not in use. Cisco turned this feature on in its own facilities last year and saved 20 per cent on the power bill for devices connected to Catalyst switches — and it thinks it can raise that to 30 per cent this year.
With Tuesday's patches to the software, EnergyWise can now reach into power distribution units and power up and down devices that are in turn linked to the PDUs — such as PCs, printers, servers, storage, and other networking gear. Schneider Electric, which is one of Cisco's poster children for the UCS servers, has been an early user of EnergyWise for PDUs. And that's no surprise, since the company owns APC, a maker of PDUs and UPSes. WTI, Server Technology, Raritan, and CyberSwitching are all going to be cooperating with Cisco and supporting the EnergyWise PDU feature.
It's amusing to think that some day you'll be hanging out in the server room while the network administration tools will be arguing with the server administration tools over which has control over the power used by devices in your data center. There might even still be a liveware network admin or server admin there to sort it out.
Cisco also kicked out the ASR 1001 aggregation services router — what the company calls a small-footprint edge router — that delivers 2.5Gb/s of bandwidth and can be pushed up to 5Gb/s of bandwidth with a golden screwdriver software upgrade.
The router will come in three flavors: one supporting two OC3 links, one supporting four T3 links, and one without an integrated daughter card (IDC). The router is intended for supporting branch offices or delivering managed services, and in its 1U form factor it has enough bandwidth to support 1,250 standard video connections or 500 high-definition links. The ASR 1001 will ship in December, runs Cisco's IOS XE 3.2.0S operating system, and will cost $30,000.
Cisco also announced that its Integrated Service Router (ISR) family of products that support Services Ready Modules (SREs) will be able to host a baby VMware ESX Server partition running Microsoft's Windows Server 2008 operating system.
The SREs are fully functional but small x64 server modules with 8GB of memory and 500GB of disk that plug into the router and run Linux. The idea is to allow Cisco and third parties to put additional software functionality into the router; so, for example, if you run a PBX for unified communications from the data center, you could keep a snapshot of the PBX code on the SRE and in the event the link back to the data center was broken or their switch crashed (we know this never happens, of course), a local version of the PBX software could run on the SRE and people could still make phone calls.
With the new UCS Express capability for the ISR routers, any Windows-based application that is being hosted back in the data center can now be configured to run on the router — if companies want to do that — or be configured in a "survivability mode" in which an application running on Windows takes over in the event that the remote version running back in the data center is offline for any reason.
UCS Express will be available for the ISR routers with SREs starting in November, and costs $2,795. That's about as expensive as a cheap server with a cheap Windows and ESXi license, and it also means one less box on the floor in a remote office and one more workload that is under the control of IOS that the local staff in the branch doesn't have to manage.
Cisco has also cooked up a software-appliance version of its WAN optimization code, called WAAS Express, that can now run on the IOS operating system on any router in the Cisco lineup. There's a version called WAAS SRE that is tuned to run on SRE modules if the routers have them. WAAS Express costs $1,000, while WAAS SRE costs $2,500.
Last month, Cisco announced the Virtual WAAS appliance, which runs atop a VMware ESX Server partition and optimizes network traffic for the Nexus 1000V virtual switch at the heart of its "California" Unified Computing System.
The ASA 5585-X is what Cisco calls "the fastest firewall out there," and it packs twice as much throughput as the ASA firewall it replaces, according to Cisco. It can support up to 2 million concurrent sessions and up to 350,000 connections per second in the largest model — that's the one with the SSP-60 security services processor installed that is rated at 35Gb/s of bandwidth and 5Gb/s of virtual private networking bandwidth. The ASA 5585-X costs $29,995 and has been shipping to early customers since September, according to the company.
Cisco has also tweaked AnyConnect 3.0, its virtual private networking front end, supporting Apple Mac OS X and Windows 7 clients and a number of new mobile devices; IPSEC encryption has been added to the existing SSL encryption. This update will be available in December, and licenses cost $100 for 25-user bundles for customers using Cisco's ASA firewalls.
Finally, Cisco is rolling out a new Aironet 1040 AP entry-level 802.11n wireless endpoint, which is a scaled-down version of an existing product with a scaled-down price, as well. Cisco didn't want to go with a wireless access point that used the less capacious 802.11a/g protocol, which has about a sixth the oomph. The Aironet 1040 AP costs $495 with a single band and $795 in a dual-band configuration. ®
Sponsored: Minds Mastering Machines - Call for papers now open