Three-version Avatar disc sets out 15 November
Avatards rejoice!
If you've not had your fill of Avatar you'll be able to buy a whole three discs more of it next month.
Having dedicated the original DVD and Blu-ray releases to the movie - no extras to use up disc space that could be better employed upping the video bitrate - director James Cameron and co. have gone to town on the new set.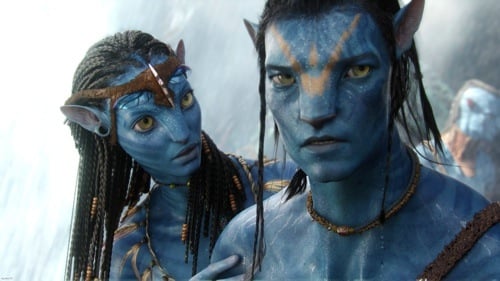 The three-BD collection, for example, includes three versions of the film - the original release, the recent slightly longer edition, and a new "collector's extended cut", presumably even longer still as befits this 'Dances with Wolves in space' production.
Yes, there's a quarter of an hour more footage for Avatards to enjoy, plus an "exclusive alternate opening" for those of you unhappy with Costner's Cameron's original.
Still not enough? The discs also contain 45 minutes of deleted scenes, plus all the usual making of... features.
The DVD offers the same content, but distributes it over the discs differently.
It'll retail for £20 when it's released on 15 November, with the BD set priced at £25. Canny buyers will, of course, seek out big discounts from the highly competitive online disc retailers. ®
COMMENTS
Still not waht they promised us all those years back.
I am still waiting fro the day when one disc contains all of the movie and different playlists can be chosen to select different track orders, meaning that the "director's cut" and the original can use the same video for the majority of the time. Why, when the magical Blue Raymond has storage beyond the comprehension of our feeble, pathetic, non-film-selling minds do we still need two disks on which 90% of the content is the same?
3D...
Jez, how many editions of this movie are they going to do. Sorry James, but I am not interested until the extended length 3D Blu-ray edition is released.
Also waiting for the extended length Blu-Ray version of Lord of the Rings as well. Typical that they release the normal version first...
Actually the more version of their movies they release the less likely I am to buy them as it means you are uncertain whether there is another slightly better version round the corner. They should release an edition for each movie, for each format, called the 'Collectors Final Edition'. As in this is the best we can ever do with the current format, Blu-ray etc, there will be no more until a future format comes out.
Now we are moving to digital distribution it means we will get a new release of every movie each year with a slightly better bit rate. Maybe they should get you to pay a one off subscription / rental to a movie that means whenever you want to watch it you can get the best quality extended version that exists at the time....
Sorry to waffle
@Hang On
I beg leave to participate in a Regtard commission charged with
etymologising the (AON*) nominated Reg-unit " Fucktonspurt ".
There is entirely too much fucktonspurting going on !
oh look, there is a window in my calendar...
* As Of Now
yes
branching is possible, but only with proper planning. Each "branch" has to not only have its own chapter, but it has to have it;s own audio track as well as recut movies don;t just re-insert clips but re-edit the audio for smooth transitions or music playing smoothly through an extended scene. This is very complicated, and expensive from a manpower and creation perspective, not to mention manu DVD players don;t play nicely with this (you know the "pase" when disks switch between layers in a long movie? Those pauses are usually at natural cuts, but imagine them mid-scene, irritating no?) DVD players were not built with a proper read-ahead buffer and handle moving the disk heads mid-scene very poorly. BR is completely capable of this, but studios don;t do it as the labor and planning costs often completely outweigh the material costs in adding the additional disk (especially when a 2 disk almost always sells for a higher price than 1 anyway because most consumers would not understand a 1 disk/2 movie pricing model).
Easily possible but not as marketable?
It would be very easy to do that, quite a few discs allow for a prior selection of film running order. Memento allowed you to view all the 'chapters' in reverse order for instance.
However, would it be as likely to sell as a 3 disc edition which only costs a little more to produce?
The perceived extra value is probably the reason for packaging it this way.