Chip sales continue modest gains, SIA holds steady
But iSuppli cuts back 2010 semi forecast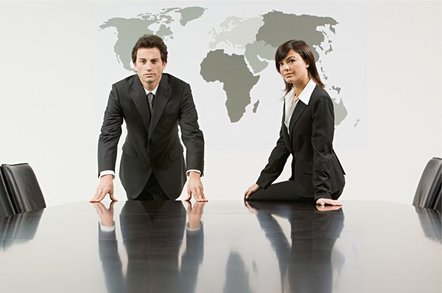 The Semiconductor Industry Association (SIA) has released its stats for chip sales in August and says that they grew sequentially by 1.8 per cent from July. The SIA is also holding pat with its forecast for 2010. But semi market watcher iSuppli has trimmed its chip forecast a bit because of reduced demand from consumers for electronics packed with chips.
The SIA does a three-month rolling average of global chip sales, which it says is the best way to calculate the overall health of the semiconductor industry. According to the latest report out today, which covers the month of August, worldwide chip sales hit $25.7bn, up 1.8 per cent from the rolling average in July and up 32.6 per cent from the average in the year-ago period, when only $19.4bn in chips were sold. For the first eight months of 2010, SIA reckons chip sales were $194.6bn, up 44 per cent. The market recovered nicely from the Great Recession.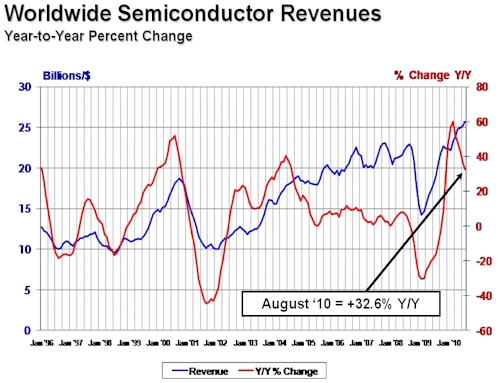 Worldwide monthly chip sales and growth (SIA)
Brian Toohey, president of the SIA, said that this was the sixth consecutive month of sequential growth for the chip industry. "PC and wireless-related products, along with infrastructure expansion in emerging markets - particularly in China and India - continue to drive sales," explained Toohey in a statement accompanying the statistics. "Concerns about economic conditions in the US and Europe, coupled with seasonal patterns, bear close monitoring. We remain confident in our $290.5bn forecast, which represents 28.4 per cent annual growth for 2010."
This month, Japan showed the most growth, with $4.04bn in sequential growth in August, up 4.1 per cent, followed by the Americas region, up 2 per cent to $4.84bn. Chip sales in Europe were essentially flat sequentially at $3.13bn. The Asia/Pacific region had only 1.4 per cent of sequential chip sales growth, according to the SIA, but remains the largest chip-buying region with $13.68bn.
Over at iSuppli, Dale Ford, senior vice president at the chip watcher, said that chip inventories are on the rise and consumer demand is slowing, compelling the company to slice a bit off of its 2010 forecast. iSuppli had been projecting worldwide chip revenues would grow by 35.1 per cent, but now says 32 per cent is more likely, hitting $302bn. iSuppli says that the way things are looking, 2010 will set a new peak for global chip sales, some $28bn higher than in 2007, the former peak year for chip sales.
Ford said that iSuppli is now projecting for fourth quarter chip sales across all types and regions to decline by three-tenths of a percent sequentially in the fourth quarter.
"There has been a significant slowdown in the second half in consumer demand for some electronic devices, including PCs," explained Ford in a statement. "Meanwhile, inventories have been building throughout the semiconductor supply chain. These factors will conspire to cause a small sequential decline in semiconductor revenue in the fourth quarter."
In the first half of 2010, chip sales were up 10.7 percent on a year-on-year basis, but that growth will slow to a 7.8 percent rate in the second half of this year.
Chips related to data processing (dominated by PCs, but also including servers) will see a 38.6 per cent rise as the PC and server recoveries continue but cool a bit. Fueled by demand for smartphones, wireless communications chips are also a hot item and will see 30 per cent revenue growth according to iSuppli's model. Wired communications chips (used in routers, switches and adapters) will see a 25.4 per cent revenue bump this year, and various chips used in consumer electronics are expected to show a 26.5 per cent jump. DRAM, thanks to tight supplies and heavy demand from PC buyers, is enjoying an 87 per cent revenue spike.
Despite the slowdown in chips in the second half and lots of concern about recoveries in the global economies, Ford is not worried about a double-dip that will smash chip sales.
"Unstable economic conditions and worrisome market reports continue to create an environment of poor visibility and ongoing uncertainty in the electronics industry," explained Ford. "This has led to frequently expressed concerns regarding a potential double-dip downturn in both the overall economy and in the electronics and semiconductor industries. However, based on its most recent analysis of the electronics supply chain, iSuppli expects the chip business to experience a soft landing in 2011 and not to suffer the kind of dramatic downturn seen in 2009."
The company is expecting something closer to normal growth next year, with overall chip sales now projected to have a 5.1 per cent growth in 2011. This includes a normal first-quarter sequential drop and gradually increasing sales as the year goes on. Between 2010 and 2014, the iSuppli model shows an average annual growth rate of just over 4 per cent, which means in 2012 and beyond supplies will be cranked up to better meet demand and chip prices will, as they always do, drop. ®
Sponsored: Minds Mastering Machines - Call for papers now open